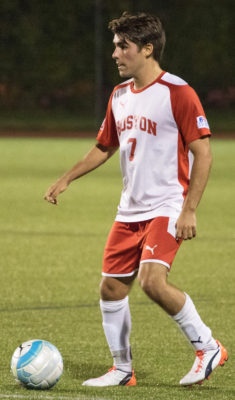 A shaky defense and missed offensive opportunities resulted in a 3-0 loss for the Boston University men's soccer team against the University at Albany on Tuesday evening. After four regular season games and an exhibition, the Terriers (0-4) have yet to see a win this season.
Albany (3-1) was the second 2016 NCAA Tournament team BU has played in its past three games and garnered the same result.
BU head coach Neil Roberts said the team's squandered opportunities, defensive lapses and poor decision making led to the team's loss.
"Today, we just made some really huge mistakes and it was disappointing because we played really well," Roberts said. "They're a good team and they have some talented frontrunners, but we made mistakes and they took advantage of them. I don't think they had too many shots, but the ones we gave them were good and it was our poor play that led to their opportunities."
After Albany forward Nico Solabarrieta scored within the first 15 minutes of the game, the rest of the Great Danes followed suit, scoring an additional two goals before the 50th minute. Senior forward Afonso Pinheiro and junior midfielder Carlos Clark, respectively, added the team's second and third goals.
Great Dane senior goalkeeper Lucas Vallilo played exceptionally, making four saves and not allowing any goals over the 90 minutes of play.
From the opening kickoff, it was clear that Albany was going to play BU aggressively on both ends of the pitch, which became more evident as the game continued. The Great Danes finished the game with 18 team fouls, two of which resulting in yellow cards, in stark comparison to the Terriers' eight team fouls.
"[Our defense] needs to be able to make plays," Roberts said. "It's not like any of these games we've been under siege; it's really just not good defending."
However, BU's Achilles' heel was its missed opportunities.
Even though the Terriers and Great Danes finished with the same number of shots taken (10), only four of BU's attempts ended up being on goal in contrast to Albany's six. BU was also unable to convert on five of its corner kicks.
"I thought the effort for 75 percent of the game was very good, but we keep shooting ourselves in the foot and putting ourselves in holes," Roberts said. "It's a shame that we don't really get to play the game out because of what we create against ourselves."
A bright spot for the Terriers was the playing of junior midfielder T.J. Butzke and freshman back Elias Lampis, who each finished the game with a shot on goal.
Roberts spoke highly of both players, commending Butzke's leadership skills and Lampis' maturity for a freshman. Roberts also noted the performance of the younger starting players on the field while a few upperclassmen remained absent due to illness.
"I think the young kids are playing really well," Roberts said. "We had five freshmen starting and a couple of sophomores and they're playing really well. Now we just have to get some leadership and consistency from the guys that have been around a while."
As the team plays the University of Massachusetts Amherst over the weekend, Roberts said he hopes his team can use tonight's game as a learning experience. He saw improvements in the team's offensive fluidity, he said, but was disappointed by the team's repeated mistakes and inability to correct them four games into the season.
"This game was a little bit different," Roberts said. "We had our best possession and our best amount of attacking opportunities, but that's what makes this loss disappointing. Four games in, we would be hoping that that would be stopping."