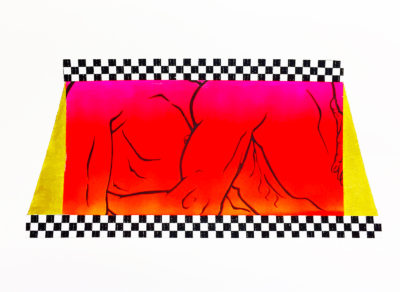 Artists often look for opportunities to share their work with a wider audience. The art itself hides a deeper meaning that often isn't clearly interpreted; however, the HallSpace Gallery stands out with its newest art installment that isn't open for question, titled "Unveiled."
HallSpace is a Dorchester-based gallery that originally opened its doors in Boston's South End in 1996. The space is dedicated to exhibiting work by "emerging and established but under-recognized artists," and they also provide exhibition opportunities to curators and artists, according to their Facebook page.
The gallery opened their fourth installment of the HallSpace Drawing Project on Sept. 2. The exhibition features 178 drawings and over 60 artists. All drawings in the exhibit are being sold for $100. The Drawing Project will be on display until Oct. 7.
The theme for this year's exhibit is "Unveiled," which means that artists submitted work with an emphasis on the expression of truth, showcasing that both through specific materials or simply in a narrative sense.
"The space is really a wonderful, hidden gem in the Boston area that some people don't know about," said Josh Brennan, lecturer of printmaking at Boston University's College of Fine Arts. "It's a dynamic show with a lot of different work and it's really affordable."
Describing himself as a "hybrid artist," Brennan specializes in painting and printmaking but also works with sculpture, photography and installation art. He said he follows his vision and chooses the best technique in order to bring that vision to life.
He originally found the opportunity to show his work in the Drawing Project through an online listing; he wanted an opportunity to show his work locally. Fitting with the theme of "Unveiled," Brennan decided to submit drawings that were densely layered.
"An image is unveiled to the viewer layer by layer and that's how I approached the image making," he said. "There's a lot of information in a very small space that has to be taken in slowly. When you look at it certain things float to the surface like an eye, part of a hand or a tree in a landscape. They slowly unveil themselves."
Another artist featured in the show is Paul Anagnostopoulos, a New York City-based artist who works in a variety of media, but mainly concentrates on painting and drawing. He explained that he especially likes to paint with oil and acrylic on stretched canvases and create ink drawings on paper.
Anagnostopoulos said he learned about the show through a friend he met at an artist residency. This friend is a practicing artist in Boston and is also featured in this years Drawing Project.
His drawing showed an embrace of two men adapted from a photograph of two wrestlers. According to Anagnostopoulos, the secret being unveiled is that — although his drawing shows a loving, romantic scene — it's ironically taken from two men engaged in a sports competition.
"My work references ancient Greek mythology and focuses on heroism and perfection," he said. "I try to make images that reference intimacy and desire which are very important tropes in myths. I use heroic references and mix them together with landscapes to celebrate tender masculinity and intimacy. I also use grids and pixels to reference early computer graphics."
Anagnostopoulos expressed that an opportunity like the HallSpace Drawing Project was a great way for artists to share and gain exposure for their work, especially since that can be difficult to do.
Working with mainly dry pastels and colored pencils on dark surfaces, Linda Bourke, professor of illustration at the Massachusetts College of Art and Design, participated in a HallSpace Gallery exhibition last year and decided to submit work to the Drawing Project this year.
Bourke submitted two drawings to the show; one featuring a mushroom and the other of a woman wearing a veil.
"There is an exotic mushroom called the Veiled Lady with a phallic stem but a lacey hood, it looks like a veiled person," she said. "I was interested in the juxtaposition of the mushroom looking "male" but it had the name lady. Many of my friends and students are trans, so having that duality exist in one object was interesting to me."
Her second image is layered and represents a veiled woman. If the viewer decides to list the veil the will realize that the only thing drawn in detail are the woman's eyes.
"I'm glad HallSpace continues to do this project," Bourke said. "They seem like they really want to give people a voice."