With the preliminary municipal election coming up at the end of the month, the four candidates for Mayor of Boston — including incumbent Mayor Martin Walsh, District 7 City Councilor Tito Jackson, and District 1 candidates Joseph Wiley and Robert Cappucci — are well into their respective campaigns.
Here is a look into the campaigns of two of these candidates, Jackson and Walsh, from the perspective of their campaign managers, including how the campaigns have developed, who has endorsed the candidates, what they have in mind for the future of the city, and why they should be named (or remain named) Mayor of Boston.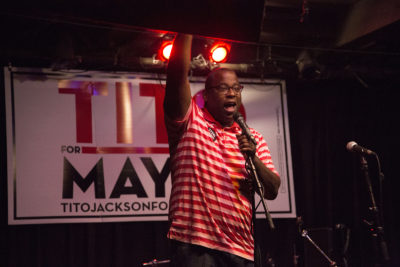 Tito Jackson
TaShonda Vincent-Lee started out working on Jackson's campaign as an advisor, then as a volunteer and now she's the campaign manager. Through her journey up the ranks of the campaign staff, Vincent-Lee said she has witnessed the group grow with her.
"Being in place for two months, I've seen miraculous growth," Vincent-Lee said. "I've seen us come together and build a tremendous team where we're making our great impact and leaving our footprint on the city of Boston."
Although the Jackson campaign is still waiting to release an official list of endorsements, Vincent-Lee said The Young Jurks, a broadcasting and media production company in Brighton, have recently shown their support for the candidate.
Within the city, Vincent-Lee said Jackson spent the summer going to every neighborhood in Boston and attending community meetings to sit down and talk with residents about what issues they are facing and how the government could help.
The affordable housing units being built today are not always affordable, Vincent-Lee said, and Jackson is looking at rent controls and housing prices based on the average income of individuals as an alternative.
"The very true thing to the core of it is that the affordable housing is just being labeled as affordable housing, it's not actually affordable to the majority of individuals that live in these areas," Vincent-Lee said. "Just because you build it and you call it affordable doesn't make it so."
In the realm of public education, Vincent-Lee said Jackson will work to address prevalent funding issues.
"[Jackson] really honestly does not feel that a quality education should be based on you hitting the lottery," Vincent-Lee said. "It doesn't matter what number is pulled for which student or which school it is, that should be a quality school that that child goes to."
Adam Boyajy, 38, South End said he would vote for Jackson because he is more familiar with his neighborhood and the issues it faces.
"He grew up in Roxbury and knows the neighborhoods very well," Boyajy said. "He just seems like a thoughtful guy who cares about the right things, particularly as it relates to income inequality and some crime in the neighborhood, he's done a lot of stuff on the city council to those ends."
Brian Flaherty, 50, of Jamaica Plain said he agrees with the policies of both candidates, but he would vote for Jackson in hopes for greater benefits for lower income communities.
"My bigger concerns have to do with labor and unions and things like that, and my understanding is that Marty and Tito Jackson are very similar with respect to labor unions," Flaherty said. "That's where my focus would be, and that's where I would hope that he [Jackson] would bring employment and bring training and things like that to the inner city."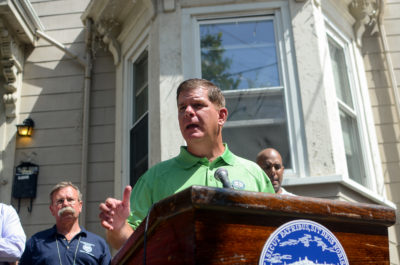 Martin Walsh
Having met Walsh while he was attending Boston College, John Laadt has been working with the mayor for four years now, on his first campaign for Mayor in 2013 and now for his reelection as his official campaign manager.
Laadt said he has supported Walsh throughout the years because of his care for the residents and city of Boston.
"You ask me why do I support Marty Walsh? Because he cares about lifting all of us up," Laadt said. "I couldn't be happier to be part of his team, I see how much he cares about everyone around him, and it's exciting to be part of the movement."
Walsh's first major endorsement came from the Massachusetts Nurses Association at the beginning of the year, Laadt said. Since then, groups such as the Greater Boston Labor Council and Local 26 have followed suit.
Laadt said the endorsement from the Boston Ward 5 Democratic Committee, representing Beacon Hill, Back Bay and parts of the Fenway district, held a special meaning for Walsh.
"In 2013 they did not endorse anyone in the preliminary, but they did vote to endorse his opponent John Connolly in the general race," Laadt said. "The fact that back then the Ward that we lost by the highest percent, we ended up getting their endorsement with a surplus of four votes is very huge for us."
If Walsh were to be reelected, Laadt said he would continue to focus primarily on the issues of affordable housing, chronic homelessness and education.
Laadt said Walsh is on track both to meet his goal of creating over 53,000 units of housing by the year 2030 and to bring an end to chronic homelessness in Boston.
As for education, Laadt said Walsh is ready to invest heavily in order to address budget issues that Boston Public Schools are facing and provide a higher quality education to local students.
"In his next term and even today, he's committed to investing over 1 billion dollars in infrastructure in our education," Laadt said. "So that will go a long way to bring a lot of our classrooms to the 21st century, and putting us on the pathway to give students success."
Nicole Caruso, 27, of East Boston said although she isn't set on who to vote for yet, she thinks Walsh's establishment in the community gives him the upper hand.
"I think it's going to be Walsh," Caruso said. "I hear more about him then about [Tito Jackson]. And I just think he has a lot of support behind him."
CORRECTION: A previous version of this story failed to mention that in addition to Mayor Martin Walsh and City Councilor Tito Jackson, candidates Joseph Wiley and Robert Cappucci are also set to appear on the preliminary municipal election ballot for Mayor of Boston on Sept. 26. In addition to this, the previous version mentioned Jackson's campaign had received an endorsement from The Young Turks, when actually the endorsement came from The Young Jurks.