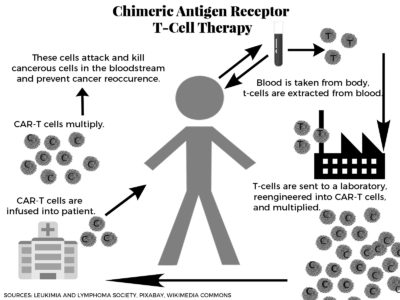 After years of uncertainty surrounding treatment for leukemia patients, the Food and Drug Administration announced a new type of treatment that has the ability to save patients. The key? Using their own immune systems.
Announced Aug. 30, chimeric antigen receptor T-cell, or CAR-T, cell therapy is the first immunotherapy for cancer treatment that has been approved by the FDA. This therapy is recommended for patients under 25 years old who have acute lymphoblastic leukemia, or ALL, and have, for the most part, relapsed or been diagnosed with refractory cancer.
"This new therapeutic approach provides a promising option for some of the most challenging cases we face in pediatric ALL," wrote Lewis Silverman, clinical director of Pediatric Hematologic Malignancies Center at the Dana-Farber/Boston Children's Cancer and Blood Disorders Center, in a Dana-Farber Cancer Institute press release.
The studies were mainly performed on those who have been through both chemotherapy and bone marrow transplants and are left without any treatment options. Without treatment, relapsed ALL is the leading cause of death for children with cancer in the United States, according to the National Cancer Institute.
CAR-T harnesses the power of the body's infection-fighting T-cells to target the cancer cells in the blood. T-cells are collected from the patient and are impressed with the protein, which are then multiplied and injected back into the patient.
However, this life-saving treatment does not come without side effects.
Matthew Frigault, an oncologist in the Department of Hematologic Malignancies at the Massachusetts General Hospital Cancer Center, said this treatment has "a whole new world of side effects that we haven't seen before, at least to this degree."
The most frequent side effect is cytokine-release syndrome, or CRS, which happens when too many cytokines are released into the bloodstream and result in high fevers or dramatic drops in blood pressure. It "requires intensive care at specialized centers," Frigault explained.
CRS can be treated with steroids and other medications, but it was very common for patients to experience it, according to the study.
Another common side effect is the proteins in the treatment not only attack the cancerous B-cells but the healthy ones too. B-cells are responsible for producing antibodies, which the CAR-T cells can kill. Patients will then have to be injected with more B-cells to fight off infection.
"It is, in my opinion, a small price to pay, for basically surviving and curing the leukemia," Frigault said.
He added, encouraged about the future of the research, "It's the first proof of concept of the entire field of cellular therapy to have an FDA approval. This is a proof of principle that this works, and it further invigorates us and gets us excited about technology."
Silverman of Dana-Farber/Boston Children's Cancer and Blood Disorders Center was equally emboldened by the news of the new therapy.
He called the approval "historic" and wrote that the Center is "actively preparing" to offer this "novel treatment."
Cautiously optimistic, Adam Lerner, director of the Hematology Training Program at Boston Medical Center and professor of medicine at the Boston University School of Medicine, reflected on the future of research in the field.
"I think it will be interesting to see in the years ahead whether there will be a wider range of treatment resistant cancers can be treated with this novel form of immune therapy," Lerner said. "There is a lot of interest and enthusiasm, but it is a young field and it is early in their development."
But Lerner also mentioned the price of the treatment is important to note. The one-time treatment currently is expected to cost $475,000. This amounts to more than the average round of chemotherapy, yet he pointed out that it aides those with no other options.
Regardless, Lerner said he's optimistic about the treatment, mentioning that he hopes it will be adopted by many medical centers.
"Oncologists have become increasingly convinced the immune system will ultimately prove to be a very important new form of therapy for, we hope, many types of cancer," Lerner said.