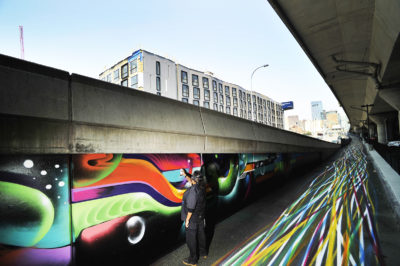 Underground at Ink Block, a new community park that will feature several murals by prominent urban artists, is set to open this Saturday, according to a press release from Ink Block.
National Development, the developer of Ink Block, is partnering with Reebok to make the project a reality. The park, which was originally an 8-acre underpass between South Boston and the South End, will feature a pedestrian and bicycle boardwalk, 175 parking spaces for local businesses and a mural wall, according to the release.
Ted Tye, the managing partner at National Development, said the park was originally supposed to be a plain, normal park when the Massachusetts Department of Transportation started on the project across the street from where their Ink Block brand is located. Once National Development gained access to the project; however, the idea changed.
"We said, 'This could be something really more special,' and we wanted to incorporate art into the design and into the programming," Tye said. "Our goal then was to bring in a group of artists who could [do] really something interesting, create this really interesting place in the city that people would want to come to and see the exhibits."
Tye said the idea behind incorporating the murals, which was curated by Street Theory, artistic duo Victor "Marka27" Quiñonez and Liza Quiñonez, was to appeal to companies and younger generations looking to find their start in Boston.
"That's part of what makes us an attractive place for GE coming into town or Reebok coming into town or other companies that are trying to attract employees and attract residents, as well, to come live in the city," Tye said. "It makes it really an exciting, new destination, a new playground in the city, and we'll be extending that not just with our opening event this coming Saturday but looking into next year with some really great programming."
Another reason for opening the park, Tye said, is to connect the neighboring communities of South Boston and the South End and to make the area surrounding the Broadway Bridge safer to walk.
"By filling in this area with a place that's well-lit, with a place that will have 24-hour security, with a place that will have lots of people, and activity, and music and art — it makes that gap a lot shorter," Tye said. "The people that are moving into the Ink Block area are now feeling really good about walking to South Boston, about using the Broadway T station, and it just really connects the two communities."
Sneha "IMAGINE876" Shrestha, a Boston-based artist who is contributing to the mural wall described her style as "mindful mantras in [her] native language where [she meshes] the aesthetics of Sanskrit scriptures with graffiti influences."
Shrestha wrote in an email she wanted to give back to the Boston community as it was the first place she was exposed to the art of graffiti.
"As a kid from Nepal, I didn't grow up seeing graffiti or much of any sort of art," Shrestha said. "Boston is the city I chose to move to after college and this city along with my chosen family have helped me grow up from being a student who paints, into a professional artist with my unique identity. So Boston definitely has a very special connection in my heart."
Shrestha wrote the location of Underground at Ink Block excited her because it was near her first employer Artists for Humanity, a nonprofit which works to employ under-resourced urban youth interested in art and design, according to their website.
"My first job out of college was at Artists for Humanity and this is where I realized the effect of art on young people and how I can contribute to being an agent of positive change through art," Shrestha said. "It feels full circle in a lot of ways to have a mural here as my token of gratitude to this place."
Cey Adams, a New York City-based artist and former creative director at Def Jam Recordings, said his mural and talents will be going towards something useful.
"I believe in community parks," Adams said. "I'm excited to have an opportunity to use my talents to create a fun place for everyone to enjoy."