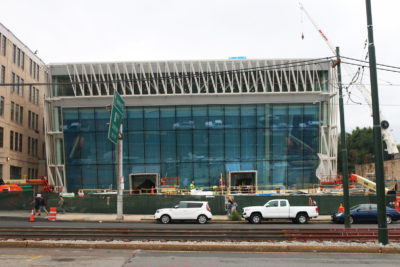 A new arts building has found its home on Commonwealth Avenue, creating a spectacle for both old and new members of the Boston University community.
The glass-paneled complex, called the Joan and Edgar Booth Theatre and Boston University Production Center, is "a multi-functional studio theatre with a full complement of support spaces and design labs for teaching and producing student theatre," according to the BU Facilities Management and Planning website.
The new space is housed at 820 Commonwealth Ave., diagonally across the street from the College of Fine Arts.
The production center at the back of the theater is currently open and the shops are already in use; however, it will still be a while before the entire building is open to the public.
The front part of the Joan and Edgar Booth Theatre and Boston University Production Center is scheduled to open on Nov. 28, said Jim Petosa, director of the School of Theatre and professor of directing and dramatic criticism.
Even so, its features and benefits are already generating excitement among CFA students and faculty.
The 75,000 square foot complex features a 250-seat studio in addition to production and support facilities with "high-bay" spaces for expanding scenery and "low-bay" spaces for costume shops, according to the Facilities and Management website.
The high-bay spaces refer to a style of lightbulb that will allow for better vertical light to benefit the creators of large-scale projects.
The facility also includes faculty offices, a parking garage and lot.
Students will be able to use the studios to learn about the processes of lighting, sound, costume and design.
Judy Braha, program head of CFA's Masters of Fine Arts Directing program and assistant professor of directing and acting, described the proximity of the new theater as a benefit for the School of Theatre.
"The School of Theatre has been split in two, and we've always had the design and production programs about a mile away," Braha said. "It was difficult to meet with colleagues and students. Now, we'll be on the same side of town, and it's amazing given that we haven't been able to have that happen before."
Several changes for students and faculty will occur with the opening of the new theater. Among them is a union between the theater design and production programs and the theater performance degree program and opera institute, a two-year certificate program for specialization in opera performance.
Originally, the design and production programs were located at BU Design and Production Center at 264 Huntington Ave., almost two miles by car from CFA's main building on Commonwealth Ave.
The Huntington Avenue location lacked sufficient classroom space and resources to support students, Braha said. It was also difficult for faculty members and design and production students to collaborate with the other half of the theater department on Commonwealth Avenue.
Saskia Martinez, a sophomore studying scenic design in CFA, shared her excitement for the additional resources and collaboration opportunities at the new theatre in a Facebook message.
"I'm … excited to work in the [undergraduate] design lab, where all the undergrads can work in the same space regardless of major," Martinez wrote.
In previous spaces, this wasn't the case, Martinez reiterated.
"All the scenic designers [were] in their own little space away from the people in lighting, costume, [and] sound," she wrote. "Now, they have the opportunity for a shared space."
On a larger scale, Martinez noted that the new proximity of the theater is "definitely going to allow closer collaboration between performance and design/production."
Braha also said she feels the new theater will bring awareness to CFA productions, especially for students outside of the degree program who still have an interest in theater.
"Having the theater in the middle of campus is fantastic because other students will have more access but will also be more aware of what's going on," Braha said. "We put on 40 productions a year, so these productions will be more available to students who are looking for an arts experience."
In addition to engaging outside students with the theater department, the new studios will provide students within the department with better technical and spatial resources to expand their work to a higher level.
"The Huntington Avenue space was antiquated," Petosa said. "Now we have artful students doing high quality work in an environment that really dignifies what they're doing."
Petosa said his students used to be stuck in basements without windows. This new space will be a huge improvement and allow the students to "function like full professionals in the field in the same time they'll be living and working."
Petosa noted that the space was designed as a group effort between faculty members, some alumni and an architecture firm.
Through this collaborative effort, as Petrosa put it, students will benefit from planning productions in a 250-seat black-box theater equipped with floor elevators, trap doors, better lighting equipment and — perhaps most importantly — a larger amount of space, Braha said.
According to Petosa, BU President Robert Brown will be initiating a ribbon cutting ceremony in December, and there will be an open house for the new space on Dec. 7. The first production in the theater will open late February, Petosa said.
"I can think of no other space that functions like this one," Petosa said. "It's flexible, imaginative and potent. I'm looking forward to directing plays in that space because it's just compelling. I'm doing a production there next spring and I'm excited to work with our students."