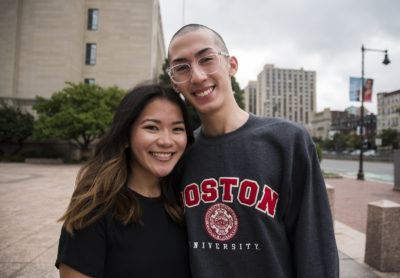 In less than 10 days, BU Underground, a closed Facebook group for students to share and collaborate on artistic projects, has webbed in hundreds of artistic BU students interested in the commitment-free content exchange.
Co-founders Jessica Phillips and Alec Chan jumpstarted the group on Aug. 28. The two freshmen sought to create a platform on which students could feel comfortable engaging with one another and showing off their work. So far, students have showcased a variety of their own content, from original poetry to oil paintings.
"The purpose of BU Underground is to create a safe environment and a hub for creators to feed off each other's knowledge," Chan wrote in an email. "BU Underground allows creators to build upon their artistic abilities through asking questions and collaborating with other creators, which I believe creates a beautiful and invaluable experience for all involved."
Chan added that the group is open to all BU students who consider themselves content creators in some sense.
"A creator could be someone who paints with acrylics, someone who programs apps, someone who designs skyscrapers," the computer science student wrote. "There really are endless possibilities. Most importantly, however, I believe that a creator is anyone who is passionate about learning and sharing information and art with others."
Phillips, who thought of the idea for the group over the summer, explained that she and Chan thought it would be best to keep the group's guidelines to a minimum to allow its members maximum creative leeway.
"We wanted to create this network where students didn't really have to have a huge commitment to it," she said. "It doesn't have a ton of structure. We have a few basic guidelines, but it's really the type of organization that you get what you put into it."
The sharing component of BU Underground, Phillips said, is what makes the group special to its users.
"It gives us a sense of purpose to share the things we've been creating," she said. "The things we make are really personal to us."
Several members of BU Underground said they appreciate the collaborative opportunities that the group provides them.
Cynthia Cheng, a College of General Studies freshman who will start at BU in the spring semester, said BU Underground allows her to share her photography hobby with her peers.
"I use the group to find people who are interested in the same things I am and to meet more creative people in hopes that when I do arrive in Boston, we can link up and collaborate together," she said.
Eric Hansen, a sophomore in the College of Communication, said, said as a film director and graphic designer, he intends to use the group to network with potential future startup partners.
He added that he would eventually like to see it evolve into something more tangible.
"I'd like to see the group expand to a more personal level, maybe weekly or monthly club meetings in person so everyone can meet each other and maybe make a few new friends," Hansen said.
Gabriela Gomez, a freshman in the Questrom School of Business, said she uses the group to connect with people and find people who are willing to model in her photo shoots.
"Throughout BU Underground, we are able to connect with each other and give feedback to one another," the photographer hobbyist said. "I am hoping to improve my photography skills with this group and to meet new people with so many different talents."
Regarding future plans for the network, Phillips and Chan both hope to plan social events in the coming weeks for members to meet in-person. Phillips said such events may include a create-a-thon event as well as gatherings for creators to explore the city of Boston.
But for now, with over 300 members and counting, BU Underground will continue to find its footing.
Alana Levene contributed to the reporting of this article.