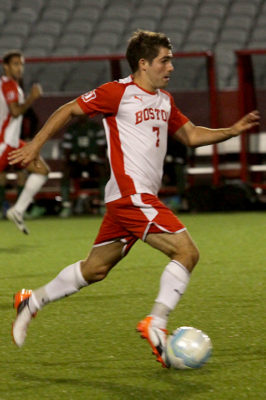 The Boston University men's soccer team saw another loss during its second consecutive road game against the University of Massachusetts Amherst on Saturday afternoon. This game marks the Terriers' (0-5) fifth consecutive loss of the season.
However, the Minutemen (3-1-1) were only able to get one goal past BU freshman goaltender William Bonnelyche, the lowest amount of goals the Terriers have surrendered in a game this season.
While he has only been at BU for a short time, Bonnelyche has played the most minutes in goal compared to sophomore transfer Michael Bernardi and senior Bjorn Kammholz.
BU Head Coach Neil Roberts praised Bonnelyche and noted that he has been improving.
"In the first half [Bonnelyche] did very well because [the Minutemen] are very tall, they had a big team, and they just threw a lot of balls in the box and it was a lot to deal with," Roberts said. "It got a little bit hectic in the second half especially when we were down and tried to push forward, but overall I thought [his performance] was definitely better than opening."
Bonnelyche and the rest of the Terriers' defense were tested right off the bat after Minutemen senior midfielder Matthew Mooney got a shot on goal within the opening minutes of the game. Mooney notched a game-high four shots, and three shots on goal over the course of the contest.
BU's sophomore midfielder Jerry Ozor and junior midfielder T.J. Butzke both had quality shots near minute 38, but were unable to convert, and the game remained scoreless going into the second half.
Five minutes into the second half, UMass earned a penalty kick after it was fouled in the BU goal box. This foul proved costly to the Terriers as senior forward Alex Desantis scored on the rebound of his missed shot.
Roberts said he thought his team's overall strategy and possession were much better except for giving up the goal.
"They came out with high pressure in the first half and we knew that, we withstood it and the guys did a real good job," Roberts said. "Then the plan was to try to take the game over, which I thought we did, and especially later in the second half, we controlled things, but we were down and they could hold on and we just didn't get the goal."
Although the Terriers were down by one, they registered five shots in an attempt to even the score. However, redshirt senior goalkeeper Bardia Asefnia was able to save shots headed his way from freshman midfielder Toti Knutsson and sophomore midfielder Satchel Cortet in the waning minutes of the game.
Another young player, freshman midfielder Peter Kargbo added two shots and a shot on goal.
Roberts commended the offensive efforts of Karbgo and Knutsson, and said that they will be essential to BU's offense moving forward.
"Peter's playing extremely well," Roberts said. "Unfortunately for right now he's probably carrying more of a load than he should be. I think he's played just about every minute for us since he's gotten here so he's a very, very good player and he's going to be an exceptional player."
BU will remain in Boston for its next three matchups against Harvard University and Princeton University, as well as the alumni exhibition game.
The Terriers are still in search of scoring a goal of their own or shutting out an opponent, but Roberts remains hopeful and said the team will continue to focus on limiting its mistakes.
"I think that they've been competing the whole way through," Roberts said. "It's just mentally making some mistakes that is going to happen with young people, but they're obviously ready for a win and they're working hard to try to get one."