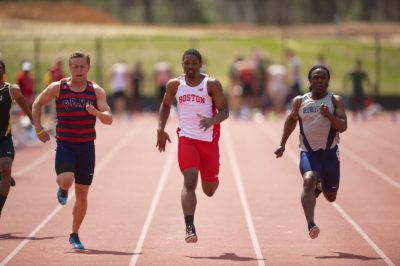 Men's cross country rolls at Minuteman Invitational
Sophomore cross country runner Paul Luevano is a common sight on campus, running up and down Commonwealth Avenue.
On Saturday, Luevano ran all over the competition at the Minuteman Invitational, finishing as the runner-up in the 6K race at a breakneck pace, finishing at 19:10.
Overall, the Terriers concluded the six-team meet second only behind the University of Connecticut. BU ended the invitational with 53 points, just over the Huskies' winning score of 26. UConn junior Patrick Begley starred in the race, finishing with a time of 18:57 to capture the top spot.
Luevano was not alone atop the charts in the 6K race. Junior Alexander Seal finished in his footsteps, garnering third place honors with a time of 19:12. Classmate Johnny Kemps also recorded a top-10 finish in the event. His time of 19:26 was good for eighth place in the competition.
Not far behind them was sophomore Brett Davidson, who crossed the finish line at 19:38 for a 12th-place tally, and senior Cullin Burdett, who concluded the race with a time of 19:58 and a 30th-place finish.
Women's cross country finishes sixth at Minuteman Invitational
The women's cross country team was not able to enjoy the same success that the men's team lavished in.
In a seven-team fight, the Terriers finished sixth, recording 168 points.
However, multiple BU runners finished with notable times in the 6K. Sophomore Abigail Gugel paced the team with a 19:18 finish, concluding the race in 39th place with an average 1K of 3:52. Just 11 and 14 seconds behind, respectively, were junior Paige Ferrucci and sophomore Ally Schlosser. Ferrucci finished 41st, while Schlosser notched a 42nd-place finish with an average 1K of 3:55.
Meanwhile, three other Terriers finished with times below 20:00. Junior Elin Wolker found herself in 46th place with a 19:36 time while sophomore Victoria Sill crossed the marker just four seconds later for a 50th-place finish. Freshman Corrine Batsu also netted a respectable finish, ending the race in 19:43.
Both BU cross country teams will be back in action on Sept. 22 for a hometown race at Franklin Park, titled the "Coast-to-Coast Battle of Beantown."