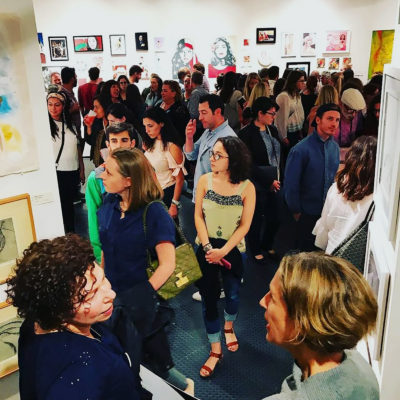 It has been 10 months since the close of the 2016 presidential election and the rhetoric of the campaign has rendered anything but dead. Along with the infamous and increasingly used phrase "fake news," another coined product of the divisive debates is "nasty woman."
Not only has the term been smeared on the T-shirts of celebrity feminists like Lena Dunham or passionately chanted out in speeches by anti-Trump politicians like Massachusetts Sen. Elizabeth Warren, but it also serves as the bedrock of a prolific art movement — Nasty Women Exhibition.
From London to New York City — where the movement began — Nasty Women Exhibition has emerged as a grassroots movements in cities around the globe.
On Friday at the Laconia Gallery in the South End SoWa Art and Design District, Boston hosted its very own exhibit — Nasty Women Boston: A Nasty Art Exhibition. There, thought-provoking art pieces were sold, totaling to about $15,000, and all the proceeds were donated to Planned Parenthood and Color of Change, which is an organization that creates campaigns to advance social justice.
"The desire to do this show was definitely spurred by my reaction to the election and kind of trying to find a way for artists and creative people to come together to express our rage, frustration and desire for change," said Kate True, founding organizer and curator of  the exhibition. "I felt really strongly that we had a community in Boston that would come behind an event like this."
According to a press release announcing the show there were about 300 art pieces donated by 200 artists from around the world, rallying to combat gender and racial discrimination.
The pieces hanging on the walls were complemented by a live band and drinks from New England Sweetwater Farm and Distillery. According to the organizers, the exhibit drew in a line-out-the-door crowd of about 700 people throughout the night.
One of the nearly 175,000 people who gathered for the Boston Women's March, True said that she became inspired to start this exhibit after she donated an art piece to the New York Nasty Women Exhibition in January and decided that it was time for Boston to join in an "expression of a resistance movement in art and in politics."
Aimee Cozza, a freelance illustrator from New Hampshire and one of the exhibited artists, said she ventured out of her typical illustrating work and donated an oil painting she created. She said she made the piece a few years ago, but the exhibition gave her the perfect opportunity and time to showcase it.
"[The painting] is of a girl character named Brooke. It's kind of got this flaming debris behind her," Cozza said. "Given the subject matter, the character that was being portrayed is more of a rebel-like character. She's not necessarily in any of the norms that the society has put on her in terms of being a dainty female. She's this tough girl who's independent."
Nasty Women Boston gives artists like Cozza — who was inspired by the Nasty Women Exhibition in London — a chance to strike up civic engagement and assign meaning to once untouched artistic pieces.
Art mimics life, and there is power in the fact that Cozza's strong-willed fictional character, Brooke, resided on the wall of Laconia Gallery, alongside pieces depicting Michelle Obama and Ruth Bader Ginsburg, who are real-life feminist faces.
Most of the artists showcased in the exhibit are supporters of  Planned Parenthood and Colors of Change. Artist and graphic designer, Emily Gallardo said she "wholeheartedly supports Planned Parenthood" and wanted to take her regular, independent donator strides to the next level by channeling activism through what she knows best; art.
At its core, the exhibit encompasses a chain of people-to-people and activist-to-activist inspiration. Previous Nasty Women Exhibitions, specifically the show in New York, spurred action in Boston and inspired hundreds of more people steadfast on uniting for women's rights, racial equality and basic civil rights.
"[Nasty Women Art Exhibitions] build community,  raise money and give people an opportunity to gather around a common cause," said Alberta Chu, producer, activist and co-organizer of Nasty Women Boston. "It emerged as a group of volunteers working together because we all care about something a lot."
From volunteers to organizers to artists, the Nasty Women Boston Art Exhibition provided a venue for feminists and activists to join in resisting hurtful implementations of the current presidential administration, Chu said.
She added, "[The exhibition] was really an inspiring testament to nasty women. Nasty women get the job done."