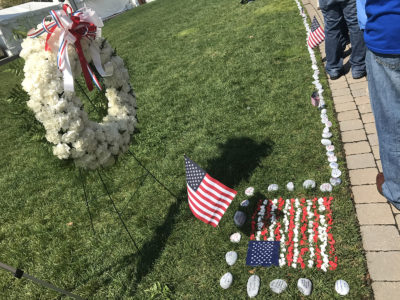 Approximately 500 people came out to the Mothers' Walk  pathway at the Rose Fitzgerald Kennedy Greenway on Monday afternoon to honor the victims of the 9/11 terrorist attacks through a volunteer project organized by the Massachusetts Military Heroes Fund.
The event, called the 9/11 Service Project, hosted volunteers ranging from eighth graders and young adults to government officials, who went through a line to create care packages for active service military members as well as Gold Star families.
The care packages included food, clothing and other necessities and memorabilia from home. Volunteers also wrote letters and postcards to families and active service members.
MMHF President Stephen Kerrigan said volunteers at the 9/11 Service Project expect to put together over 1,000 packages for troops overseas, Gold Star families and veterans in the New England Center and Home for Veterans.
"It's truly inspiring to see how many of our friends and neighbors continue to honor, remember and serve for those we lost on September 11th," Kerrigan said in a MMHF press release. "The men and women serving overseas and our local veterans in need are so thankful for the effort, the care and the love put in to this annual project."
Among the volunteers were Massachusetts Governor Charlie Baker and Massachusetts Attorney General Maura Healey, who both gave speeches to the volunteers before the packing began.
During the service project, Healey thanked participants for their efforts and spirit in coming out to the event and working on the donation packages.
"Today is about reaffirming that commitment to the brave men and women who served," Healey said. "So thank you for all of your efforts today in preparing the packages to send overseas."
Baker commended the volunteers for completing these small acts of kindness, and how they will carry a profound meaning for the troops overseas and their families.
"It's incredibly meaningful, more meaningful than you can imagine, for somebody who's out there far away from home to get something delivered that has some of the most familiar elements that they could possibly imagine," Baker said. "Every time you fill one of those boxes today, somebody … [is] going to be brought to tears when they open it up, and it's the least we can do to support them."
Other speakers included Boston Mayor Martin Walsh, Brigadier General Richard Johnson, the commander of the Massachusetts National Guard and Andrew McCawley, president and CEO of the New England Center and Home for Veterans.
Many of the volunteers in attendance were young adults and middle or high school students from all around the state.
Project 351, a youth community service group with one eighth-grade ambassador from each of the 351 cities or towns in Massachusetts, was one of the service groups who helped put together the event.
Project 351 Civic Engagement Manager Amanda Keller said one of the main roles that the students played was collecting items to be packaged including powdered drinks, coffee and gum.
Keller expressed one of the most fascinating things about the event is that many of the Project 351 volunteers and ambassadors were not even alive when the 9/11 attacks occurred.
"What's really interesting is that these eighth graders weren't alive on 9/11, which is kind of crazy," Keller said. "This is a way for them to really remember and reflect and honor this catastrophic event that happened that they weren't alive for but still affects so many people around them."
Keller said Project 351's main mission is to generate cross-generational connections and encourage young people to engage in volunteer work.
"Our hope is that they will bring this kind of service back into their hometowns and connect these eighth graders with older veterans and generate conversations that might not happen otherwise," Keller said.
Several volunteers said they had personal reasons for participating in the event.
Caroline Manghan, 22, of Cambridge said she volunteered because her brother served two tours in Afghanistan as a marine, and he always appreciated receiving care packages.
"[My brother] would call us and tell us how much it meant to him to have that piece of home and to have that comfort food and the letters, and knowing that we were always there back home and supporting him," Manghan said. "I love having the opportunity to pass it on to other service members and let them know that we're thinking of them."
Kate Montague, 22, of Seaport said she volunteered as a way to show her respect to service members and their families.
"My roommate's brother is serving and my grandpa served in the military," Montague said. "I have a lot of respect for people who have served and their families, and I thought this would be a nice opportunity to show that respect."
Hemayat Chowdhury, 26, of Back Bay said he was originally raised as a Muslim in Bangladesh, and came to help create care packages because he wanted to break stereotypes of his culture.
"I didn't know that 9/11 had such a huge impact on Americans and their impressions of [Muslims] in this country," Chowdhury said. "This is my way of breaking that stereotype and giving back to the U.S. forces to promote peace in the rest of the world."