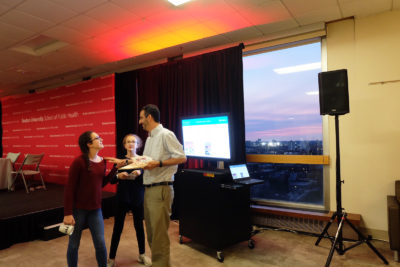 Boston University's School of Public Health released its new journal faculty-hosted podcast series titled "Free Associations" Tuesday, and held a live recording of the podcast followed by a Q&A with the hosts later that day.
About 50 medical students and BU professors gathered at the Hiebert Student Lounge and listened to a live recording of what will be the series' eighth episode. The hosts investigated recent studies that suggest low-carb diets are linked to healthier lives.
"Free Associations" is an initiative spearheaded by the Population Health Exchange, an organization within SPH dedicated to delivering health education across the Boston community and the world, according to SPH's director of lifelong learning Leslie Tellalian.
Tellalian, PHX's director, helps develop learning programs like this podcast. The series seeks to dissect health topics found in research journals that have received media attention, she said.
"Panelists present the studies as reported in the media and present a critique of the methods, results and conclusions of the paper," Tellalian wrote in an email before the live recording.
The show is co-hosted by SPH professors Matthew Fox, Christopher Gill and Donald Thea, all of whom have conducted research in various public health specialties.
"We are thrilled with the combination as they each provide a unique critical eye which provides for rich discussion," Tellalian wrote, "they also have a very warm and collegial relationship which shines in their use of humor and easy conversation."
Each podcast lasts 90 minutes and contains three segments, including a journal one that presents the health studies, a research one focused on methodology and a final piece that ponders more amusing theories.
Fox, who moderated the podcast, opened the show by introducing the focus of the first segment: health implications of low-fat versus low-carb diets.
After examining headlines found in news sources about this topic, the co-hosts stumbled upon many studies trying to link high-carb diets with rates of mortality.
"They found that, to boil it down, was that those who had a diet high in carbohydrates had a substantially increased amount of total mortality and elevated amount of cardiovascular events," Thea said.
Yet, the hosts ultimately came to a consensus that these results are not conclusive.
"I think it's intriguing and I think it's flawed, but I think more research is needed," Thea consented.
Another segment of the podcast considered the reputation of journals, debating whether rank can validate quality and credibility
"I'm not convinced that … top tier journals as compared to the next tier is necessarily any better or worse," Gill said.
However, Thea disagreed, saying that top-tier journals are "more numerous and more rigorous."
After the recording of the podcast, the hosts took questions from the audience.
Fox said his favorite part of the podcast is getting to laugh with his co-workers.
"The three of us are pretty good friends and during the course of our normal workday, we don't get a lot of time to spend together," Thea said. "I think it's really fun that we get to hang out together."
Several students in the master's of public health program said they found the podcast interesting and will listen to them in the future.
Gabriela Macias said she came to the event because she wanted to engage with more events on campus.
"I think it's an opportunity because I've never seen a live podcast before," Macias said.
SPH graduate student Srisampada Nandyala said she was interested in examining publications through the lens of the hosts.
"It was really interesting how they took apart a large study from a reputable journal and see how you could look at other journals in the future in that sort of critical angle," Nandyala said.
Maddie Heim, another SPH graduate student, said she found the event entertaining and worthwhile, as it broke down convoluted topics into digestible bits.
"I think it's important because it translates a lot of really hard-to-understand information to people who don't know everything," Heim said.
CORRECTION: A previous version of this article's title was "SPH Peer Health Exchange launches podcast, judges health studies," which has been corrected to "SPH Public Health Exchange launches podcast, judges health studies."