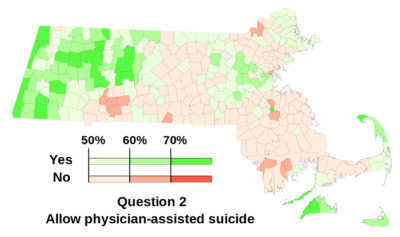 Two bills addressing physician-assisted suicide in Massachusetts are set to testify before the state legislature Sept. 26, according to a Monday press release from the Massachusetts Alliance Against Doctor Prescribed Suicide.
Meanwhile, the MAADPS stands by the undisputed ruling within the New York Court of Appeals Thursday stating there is no constitutional right for medical professionals to assist patients with suicide.  
The MAADPS advises legislators to take note of the New York court decision and scrap the two bills, according to their press release.
Robin Loughman, the chair of the MAADPS, wrote in an email that as a registered nurse who has worked in a hospital for over 30 years, she does not agree with the idea of dying with dignity.
"These bills are dangerous for poor people, for sick people, for disabled people, for elderly people, and for minority people," Loughman wrote. "I've taken care of many terminally ill patients, and have also been at the bedside with dying relatives, so I am not buying the lie of 'death with dignity.' I would rather help people live with dignity, until they die."
Loughman wrote that the MAADPS is contacting disability groups, patient advocacy groups, medical groups, minority activists and all people who might be affected by physician-assisted suicide to attend the hearings and testify.
Loughman added that the organization is also bringing William Toffler, national director of Physicians for Compassionate Care, to the hearings.
Peg Sandeen, the executive director of Death with Dignity, a nonprofit organization based in Oregon that agrees with assisted suicide, said modern medical developments, while extraordinary, have created a problem worth discussing.
"One unfortunate unintended consequence of the positive movement in medicine is that for a very few number of people, they experience protracted dying, which is very real," Sandeen said. "For a very few number of people, modern medicine has created a problem, and this society needs a civil response to that problem."
Regarding the legislative hearing in Massachusetts later this month, Sandeen said she hopes the people of Boston stick with the original Oregon prototype.
"I am really hoping that they decide to move forward." Sandeen said. "I think it's really clear that the people of Massachusetts are interested in Death with Dignity, and there is a model that the piece of legislation is considering that's really strong."
Sandeen said the Oregon model has been used for 20 years successfully and could help Massachusetts residents.
"I really think it's time for the legislators in Massachusetts to respond to the people," Sandeen said.
Several Boston residents said they disagreed with the New York court decision, siding instead with the patient's right to decide for themselves.
Maura Wilson, 25, of Brighton, said as a nurse who works in trauma, she sees this scenario often, and sides with the patient's right to choose.
"I feel like doctors do too much with patients that don't want it, so I'm definitely pro-euthanasia," Wilson said.
However, Wilson said instances of physician-assisted suicide would have to be managed on a case-by-case basis.
"In the right circumstances, if it's properly screened for, it's very beneficial," Wilson said. "I definitely think it would be beneficial in instances like … terminal cancer when they know they're not going to get any better."
Courtney White, 33, of Dorchester said assisted suicide is acceptable if the patient is going to die soon.
"I feel like it should be a patient's right to choose," White said. "If they have a terminal illness, I don't agree that they need to absolutely live until their final breath."
White said she thinks the patient should at least get the chance to discuss their options.
"It definitely has to be a discussion between the patient and the physician, but it should be a discussion that they should be allowed to have," White said.