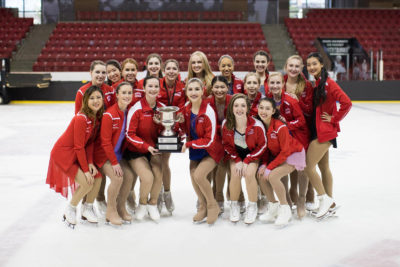 By: Matthew Martin and Rishabh Krishan
Axel Jump, bracket, camel spin. To most, these terms are a confluence of seemingly unrelated words. But to figure skaters, they are expressions of grace and elegance. Elegance that transcends the normal bounds of human flexibility and renders audiences astonished. And nobody does it better than the Boston University figure skating club.
Founded in 1974, BUFSC has grown into a competitive team of 26 members and a non-competitive team of eight. BUFSC has members from around the world of all different ages who strive to uphold the standard of excellence that the club has established.
In the last 10 years, the team has won the Intercollegiate National Competition three times and the team has placed in the top three for nine consecutive years. Very few established sports groups can rival the prolific success of the Terriers' figure skating program.  
Yet, such accomplishments took years to reach. Over the club's 43-year lifespan, it wasn't until 2006 that the team won their first national award. Those decades of hard work and dedication to the craft are what enticed skaters like team captain Taylor Dean to join.
Senior President Alyssa Uzumcu had a similar story.
"I actually wasn't sure if I wanted to skate in college," Uzumcu said. "I ended up doing the competitive team because I really enjoyed the atmosphere and the environment … it was a great thing to join at a large university."
In addition, some credit should be attributed to BU and the strong academic program it has developed. Dean and Uzumcu both said they were drawn to BU primarily due to its strong academic programs in the College of Arts and Sciences.
However, for the most part, the team's accomplishments have not been recognized by the BU student body.
"We got no recognition until we won nationals," Dean said. "Even club sports didn't really post [about us]. It was really hard getting our name out there until we won … people [didn't] even know about figure skating at BU."
Since winning nationals, the club has said their presence is becoming more well-known.
While the club has focused on increasing promotion, the members said they have worked even harder on building team camaraderie.  
"We're trying to bring people together who have such individual mindsets," Uzumcu said. "Skating … is one person out there doing their thing … so we try to create a team atmosphere … we are a team and the points that an [individual] scores help the team … last year we created an atmosphere that was more about the team than the individual."
On and off the ice, the members of BUFSC have become more unified and connected with one another, Dean said.
"We're definitely a family," Dean said. "We organized a lot of bonding events and made sure everybody interacted with each other … everybody eventually branched off and started hanging out with each other … we're there for each other … at competitions cheering each other on."
Atop all of the hard work and team cohesion stands their championship win. As Eastern Conference leaders, the Terriers earned a bid to the Intercollegiate National Championship at Miami University where they took home gold.
"It was such a huge accomplishment for us to win," Uzumcu said. "It's a testament to the strength of our skaters."
The club is not predicated on expectation of performance, but rather on a shared passion for the sport members of the team said. Their love for figure skating has contributed to their unrelenting success.
"I love being in a rink," Dean said. "It's where I feel most at home."