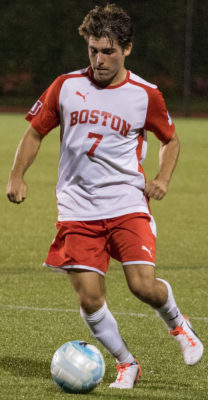 The Boston University men's soccer team will attempt to earn its first win of the season this Saturday against Harvard University as they return home to Nickerson Field after a two-game stretch on the road.
The Terriers (0-5) have disappointed so far this season, but BU head coach Neil Roberts has remained confident that his team will be able to pick up the pace by the time conference play rolls around.
However, in order to achieve that crucial first win, the Terriers will need to beat the Crimson (1-2-1), who have performed consistently well through the years and went 10-3-2 in 2016.
"They look like a team who is possessing the ball pretty well and that could attack," Roberts said. "We'll have our work cut out for us for sure."
BU, despite its record, still has high-performing players, Roberts said. While the efforts have not translated to the win column, some Terriers are making a name for themselves for playing time going forward.
"It's a new system that we're trying to play," Roberts said. "We are depending on our midfielders. David Armani and some of the new young kids are performing. It's just a matter of the team finding themselves and I think that's coming. I think you will really see that before we hit conference play for sure."
BU will play its first Patriot League game against American University on Sept. 23. While American (1-4-1) has also had a slow start to the season, teams like Loyola University Maryland and the United States Military Academy have won a majority of their games will pose a threat to the Terriers.
Before this season, the slowest start for BU came in 2004 when the Terriers lost their first four contests of the season.
Of course, two of the losses occurred in overtime, but it was still a hard hole for BU to dig itself out of. The Terriers eventually finished the season 10-8-3 and 6-2-1 for conference games.
While Roberts said he's disappointed in the team's season start, he is confident about the potential of his unit.
"I am concerned, sure," Roberts said. "You put a lot of time in the summer, but right now we're not ready to win the games that we need to win. Right now we have to be patient as coaches and as players, and I really think when it's all said and done, we'll be fine."
An emerging player for BU has been freshman goalkeeper William Bonnelyche, who played a great performance against UMass last Saturday, totaling four saves and only allowing one goal that came off a rebounded penalty kick. The Stockholm, Sweden native may well have pulled away from the other two goalkeepers on the roster.
A challenge for Bonnelyche will be Harvard's young offensive players — freshman midfielder and forward Paolo Belloni-Urso and sophomore forward Philip Hausen — who have each scored a goal and an assist this season.
Crimson senior goalkeeper Kyle Parks has also played every minute this season, and sits on a .724 goal save percentage and 1.89 goals against average. The Terriers will need to amp up their offense, which is only shooting 35.2 percent of their shots on goal, in order to secure a win on their home turf.
There is uncertainty for this season, but Roberts remains hopeful. Players like sophomore midfielder Jerry Ozor, junior midfielder T.J. Butzke and senior midfielder David Armani all have shown that they can contribute in a major way, but the combination of older talent and younger players first needs to develop, Roberts said.
"The kids are committed," Roberts said. "It's frustrating at times, but we learn the lessons from the games in the past and keep getting better and I really think that we are."