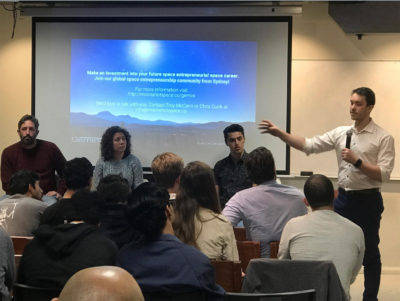 If Apple started in a garage, could the next billion dollar space company come from one, too? According to Troy McCann, the answer is yes.
In his presentation, "It's Not Rocket Science! How to get into the Space Business," McCann, founder and managing director of MoonshotX, envisioned a future in which interstellar innovation could come from a couple of minimally funded entrepreneurs.
MoonshotX, founded in 2016, is an Australia-based space startup accelerator. Their mission is to "help entrepreneurs validate, grow and scale promising space technology based business models," according to the company's website.
As a part of their international roadshow, McCann visited Somerville's Canopy City on Sept. 7 to explain their vision.
Using the field of telecommunications as an example, McCann explained the expensive status quo of space business, which is prohibitive to smaller ventures, like startups.
"If you want to have a telecommunications satellite, it's very easy," McCann said. "At the moment, you put a billion dollar satellite into geosynchronous orbit. You need a massive rocket. Even, like, a Falcon 9 costs you $60 million just to put it up there."
But McCann emphasized the emergence of new, cheaper technology, like CubeSats, as a gateway for entrepreneurship and innovation. CubeSats, McCann explained, are small satellites built using the same technology used to construct smartphones, which makes them both powerful and hyper connective.
"A CubeSat is a functioning satellite you can hold in your hand," McCann said. "It weighs about a kilogram, literally a little bit bigger than a Rubik's Cube. That's kind of what they look like."
"Let's say it costs you $20 thousand to launch one of these [CubeSats] up," McCann said. "You can launch a hundred of them up there, and if they all talk to each other, they can spread over a much larger area. You can put them into a lower orbit, which means it's much, much cheaper."
McCann further explained that CubeSats have some advantages over larger, more expensive satellites.
"You can do things that you couldn't do with that single billion dollar geosynchronous satellite," McCann said.
For example, Planet Labs, an aerospace startup turned billion dollar company, utilized the hyper-connectivity of CubeSats to create an advanced global imaging system.
"They literally started building these satellites in a garage," McCann said. "They have over 150 of these satellites in orbit … every 24 hours, the entire fleet of satellites takes imagery of the entire surface of the Earth."
John Clarke, director of Boston University's Center for Space Physics, confirmed the high potential of CubeSats for certain applications.
"What can you do on a smaller platform like a CubeSat? The answer is quite a bit, not everything," Clarke said. "Where there's an application where you need a lot of coverage, communications with the ground, imaging weather systems, things like that."
Clarke also pointed out that, in addition to the substantially cheaper cost of emerging technology like CubeSats, space startups could benefit from their ability to take risks and accept potential failures.
"When the government launches things, especially human beings into space, it has to work," Clarke said. "They have all kinds of safeguards to make sure that nothing goes wrong … But if a company is willing to take a little more risk and actually accept that a few percent of them will fail, that's a fundamentally different way of operating … and that should drive down the cost."
Ian Mashiter, director of the BU BUzz Lab, said that cheaper, more accessible technology would likely facilitate the formation of more space startups.
"One of the problems for startups is the cash requirements of many of these ideas, the resource requirements," Mashiter said. "But if you think about the stuff that Elon Musk is doing and Richard Branson is doing, lowering the cost of entry into the Earth's atmosphere … then one can imagine there will be some opportunities."
With its Gemini Space Entrepreneurship Incubator, MoonshotX hopes to aid entrepreneurs looking to take advantage of those opportunities.
Zach Cox, a senior at the Berklee College of Music who attended McCann's presentation, said he felt inspired after the lecture.
"I found Troy to be very insightful about the future of space exploration," Cox said. "His knowledge of his company's program and of space in general sparked an interest in the field inspiring me to look into potential career opportunities."
Reflecting on his desired impact with MoonshotX, McCann said he hopes to change the way people approach space.
"I want to change people's perception that there is a final frontier," McCann said. "We're already in that final frontier. I don't want us to continue to see space as this other thing because we are in space. So are we ready for it? Yeah, we've always been ready for it."