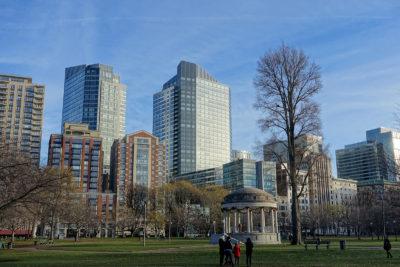 The usually scenic and peaceful grounds of the Boston Common were transformed into a crime scene Tuesday evening, with lines of caution tape marking a shooting that left a 19-year-old Hyde Park resident seriously injured, according to The Boston Globe.
Indicative of a larger problem in the state of Massachusetts and the nation at-large, shootings in Boston have been on the rise.
Data published by the Boston Police Department indicates that by Aug. 6 of this year, there has been 151 recorded shootings — both fatal and nonfatal — in Boston, compared to 121 shootings in that same time frame the year before.
Officer Stephen McNulty of the BPD wrote in an email that the police force is not thrown off by the data, and will continue to conduct their normal activity within the neighborhoods of Boston.
"While statistics can certainly fluctuate, I can assure you that we continue to work hard in the communities we serve to make them as safe as possible," McNulty wrote.
Priscilla Flint-Banks, vice president and co-founder of the Black Economic Justice Institute, said the gun violence issue within the city should be labeled a state of emergency.
"Every other day, every week there's a funeral of a young person," Flint-Banks said. "That wears on people's minds … it's a public health issue and nobody's addressing it."
For Flint-Banks, this issue is personal, as instances of gun violence have taken the life of her nephew, numerous friends in her community and left two of her cousins physically disabled.  
 Roxbury, Dorchester and Mattapan, Flint-Banks said, are not only the neighborhoods experiencing the most violence, but are also those most often overlooked. Flint-Banks said she is disappointed in Mayor Martin Walsh in regards to how he has been handling the situation.  
"The Mayor isn't willing to come into the community and sit down with the people who are on the ground … and try to come up with a comprehensive plan to stop this," Flint-Banks said. "They claim that they have a plan, but when's the plan?"
Gun violence is an epidemic across the country, Flint-Banks said, and is rooted in poverty and racism.
"No one wants to listen to the person who's perceived as the angry black person," Flint-Banks said. "With everything that's going on in our community, we have a right to be angry."
Despite the pervasiveness of the gun violence issue in these neighborhoods, Massachusetts still has the strongest gun violence prevention laws in the nation and the lowest gun death rate of any state in the United States, hinting to a larger, national issue, said Angus McQuilken, co-founder of the Massachusetts Coalition to Prevent Gun Violence.
More than 30,000 people are killed by guns in the U.S. each year, McQuilken said. As the issue of gun violence contributes to this death toll, McQuilken said action is required on the federal level to address it. 
"The epidemic of mass shootings shocks the nation on a very regular basis, but it's the daily drumbeat of gun violence and the cumulative toll that it's taking on the lives of American citizens that should be the focus of policymakers," McQuilken said.
McQuilken said the focus of Massachusetts officials should now be on the enforcement end of the fight to alleviate gun violence in the state, including identifying and cracking down on individuals trafficking in firearms, a market that often fuels gun violence in lower income communities.
Most importantly, McQuilken said the gun violence issue must be understood and addressed as a multifaceted problem.
"No one should be under the illusion that any one approach or any one public policy is going to solve all aspects of this problem," McQuilken said.
However, McQuilken said efforts to strengthen gun laws will always be challenging.
"We are up against a very determined, well financed and well organized opposition in the National Rifle Association," McQuilken said. "They represent the interests of gun manufactures; people should be clear headed about that. Their opposition to stronger gun laws is about one thing and one thing only, it's about the money."
CORRECTION: A previous version of this article claimed 30,000 people a year are killed in result of gun violence, when actually this statistic includes all deaths as a result of gun fire, whether it be acts of violence, cases of self defense or suicide.