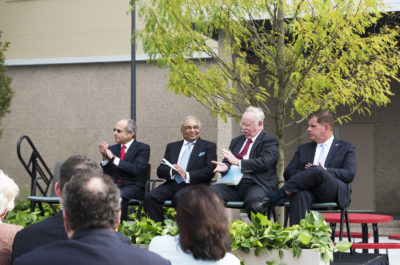 Boston University trustee Rajen Kilachand joined President Robert Brown and other university officials to introduce the Rajen Kilachand Center for Integrated Life Sciences and Engineering to a crowd of about 100 members of the press and BU faculty, staff and students.
The two joined Boston Mayor Martin Walsh, Board of Trustees Chair Kenneth Feld and Gloria Waters, the vice president and associate provost for research, to cut the ribbon to open the building for operation.
Brown said during the ceremony that CILSE's officiating symbolizes the spirit of collaboration across campuses and academic disciplines.
"Today's announcement, in total, is a $250 million commitment by the university by our generous benefactor to our faculty, staff and students to work at the nexus of life sciences and engineering, addressing these challenging problems," Brown said.
Walsh said CILSE's opening represents "a pivotal moment for our city," as it corresponds with the booming biomedical industry.
"It will be a collaborative environment that will lead exploration and discovery and life-changing breakthroughs on this 21st-century campus," Walsh continued. "It's becoming an amazing creativity and opportunity with institutions like Boston University and what the gift today does, and what this building does."
Brown told The Daily Free Press that the grant will support research opportunities and infrastructure at the university, but it will not necessarily offset tuition increases.
"Every time you roll the endowment of the university, you're balancing the sources of revenue to the university with something other than tuition," Brown said. "This grant does not directly affect tuition. That resource to the university offsets our reliance on tuition and fees."
During his speech, Kilachand recalled arriving to BU at the age of 21, hailing from Bombay, India. He brought homemade Indian tortillas and few clothes, he said, "but I had tremendous dreams."
"Some things … never change — like the wonderful fall of Boston, of Massachusetts, Charles River," Kilachand said. "But in my case, I have to tell you, the one change that has never happened is that I always had my dreams."
After the ceremony, Walsh told The Daily Free Press that Kilachand's donation will become a propeller of scholarship and academic breakthroughs. He also commended Brown for bringing resources into the university.
"President Brown is respected, not just here in Boston, in Massachusetts, but respected around the country, around the world," Walsh said. "Aside from what he's been able to do — as far as bringing donors to the school, bringing opportunities to the school, that's what you can look at."