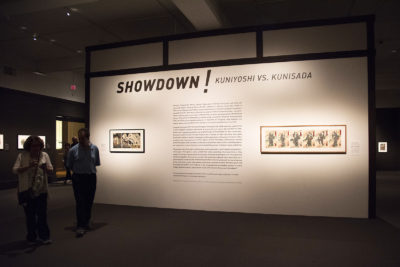 The Museum of Fine Arts and UNIQLO, a Japanese-based retail store, announced Friday a 10-year partnership to support Japanese arts and culture as well as programming, according to a press release from the MFA.
UNIQLO will support the MFA financially to create new Japanese-related programming as well as to support the existing programs and exhibitions, according to the release. In turn, UNIQLO will have brochures and drop-in art making days with crafts which relate to the exhibits at the MFA.
Katie Getchell, the chief brand officer and deputy director at the MFA, said the partnership with UNIQLO was a unique match. The collaboration came naturally due to the retail store partnering with other art institutions in the past and serves as a way to expand interest in exhibitions at the MFA, Getchell said.
"We could use them to extend our reach so that we could … help people both who may not come to the museum experience something and also, hopefully, interest them in coming to the museum to see programming … exhibitions … galleries and our collection that is here all of the time," Getchell said.
Getchell declined to comment on the specific financial amount UNIQLO contributed, but said it was in the seven figures.
Alexandra Ford, the gallery learning coordinator in education at the MFA, said the partnership with UNIQLO allows for four drop-in art activities at the six stores in the Greater Boston area. These art activities allow for greater outreach to children and education in the different collections the MFA currently has, Ford said.
"I'm really excited that we get to tie-in art making because we do things with this all the time in the museum during programs," Ford said. "For me, it's really about making people aware that we have this exciting collection and we want to teach people more about it and encourage people to come to the museum and take part in our programs."
Carter Long, the Katharine Stone White curator of film and video at the MFA, said he has personally been curating the film festival UNIQLO is supporting, the Boston Festival of Films from Japan, since May, which will happen early next year.
Long said the festival is a great way for people to experience a new culture unlike their own.
"We want it to be an introduction to a culture, a way for people who are not from that culture to gain those cultural experiences through the art of films," Long said. "There's a richness, especially in cinema, the history of Japanese film. Some of the greatest films ever made come from Japan and that is a tradition that has continued through the decades even to today."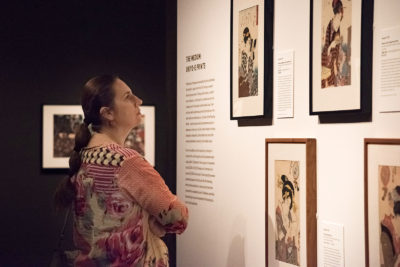 Sarah Thompson, a curator of Japanese art at the MFA, said she helped to curate "Showdown! Kuniyoshi vs. Kunisada," a current art exhibit at the museum UNIQLO is supporting. She said she hopes the partnership will draw people into exhibits like "Showdown!"
"I really want to spread the word about our Japanese collection," Thompson said. "We have the biggest, best collection of Japanese art outside Japan and a lot of people are not aware of that. I hope that they will become more aware of that through these various activities that UNIQLO is sponsoring."
Several residents of Boston said they are interested in what this partnership has to offer to the community.
Peter Hutchinson, 37, of the South End, said this partnership is a great way to involve younger generations and people of other cultures together.
"UNIQLO is a pretty prevalent brand, so having them come here and be involved with [the] MFA, which is mostly college students, works for the younger generation," Hutchinson said. "There's a solid Japanese culture in Massachusetts — maybe not as big as Chinese and other nations — but definitely it could bring in some good to Boston."
Cory Knowles, 25, of Allston, said this is a great way to inform people of cultures other than their own.
"To immerse the population with a little bit of understanding, and a direct understanding, of a culture is good," Knowles said. "It's close and less interpretive and leads to a better understanding."
Shiv Patel, 23, of Kenmore, said the partnership can draw more people of minority groups into Boston.
"I personally feel like there isn't a huge presence of Japanese culture in Boston, so this could definitely help," Patel said. "Any sort of cultural engagement to bring out a minority group can help, and I think it's a good idea. It'll attract to a smaller niche out there. It'll bring in money."
Jordan Kimmel contributed to the reporting of this article.