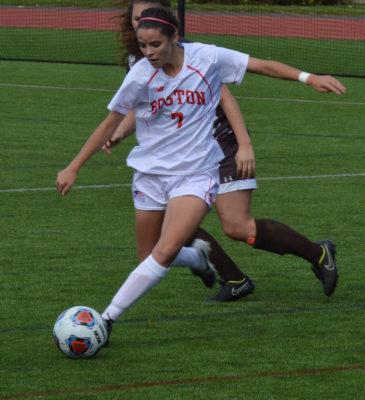 Following a resounding 6-0 rout of American University in its Patriot League opener, the Boston University women's soccer team hosts Dartmouth College on Tuesday in hopes of starting its first winning streak of the season.
The Terriers (2-5-2, 1-0 Patriot League) scored six goals in their first eight games of the season before matching that total on Saturday against the Eagles (1-8, 0-2 Patriot League). BU head coach Nancy Feldman said she was pleased to see her squad pick up the slack on offense.
"It certainly is a confidence builder to be able to put the ball in the back of the net for individual players to experience that," Feldman said. "We've had some struggles in that area. We've worked hard at trying to train so the players feel prepared and can accomplish it on game day."
For Feldman, the offensive effort was at least a partial vindication of the team's training following a 3-0 shutout loss at the hands of neighboring rival Boston College.
"All last week we worked on our hunting in the final third to generate more off of our goal scoring opportunities," Feldman said. "We worked on better runs into the box for slotted and crossed balls, we had more presence in the box and our runs were more dynamic. On one of the clips that I watched, I saw actually what we had trained last week, and to me, that's how we get better and what will lead to future success."
However, when it comes to carrying the momentum over to Tuesday night, Feldman said that Dartmouth (4-3) presents a uniquely different challenge.
Freshman goalkeeper Amanda Fay recorded her first career shutout against American, but she'll likely face much more potent goal scorers from the Big Green. Midfielders Alyssa Neuberger, Remy Borinsky and forward Bianca Ribi have scored nine of the Big Green's 11 goals thus far.
On Saturday, American struggled to maintain possession in BU's box, and Fay only had to make a single save. Feldman is preparing for a more physical Dartmouth attack that will test her defenders.
"They're always very stingy, they're usually very athletic and physical," Feldman said of Dartmouth.
Outside of the Terriers blowout win on Saturday, in which their dominant offense proved to be their best defense, their defense has appeared porous at crucial times, allowing opponents quality shots on goal. As the bulk of the Patriot League schedule looms, Feldman said she sees Tuesday as a chance to measure how far her team has come on the defensive side of the ball.
"Our urgency in our box [has] to be sharper, [we can] not have pauses in concentrations," Feldman said. "We didn't get to see whether or not we moved the needle in that area game because American didn't have much of a presence in our box, and I am sure Dartmouth will present that challenge."
One of the most encouraging signs of Saturday's game was the resurgence of senior forward Christina Wakefield. The East Longmeadow native netted a pair of goals in the win over American, and Feldman said her confidence has begun to build up following her return in August from an ACL injury.
Now, it seems as though Wakefield may mold into the Terriers premier goal scorer, as she leads the team with three. Freshman midfielder Anna Heilferty has emerged as a surprising scoring threat with two goals this season. Seven other Terriers have found the back of the net, which is a testament to BU's passing ability, but as the season wears on, the Terriers will need to turn to its leaders in big moments.
Besides Wakefield, the leadership of fellow seniors like midfielder and captain Jacki Carty has begun to make impact on the field for BU. Feldman praised Wakefield for taking on a bigger role as a leader since returning from her injury.
"Tina is a great model both because of how much she pours into it and how hard she works," Feldman said. "I also think now she's starting to use her voice a bit more to direct, to support and to hold people accountable and that's what you want your seniors to do and how you want them to emerge during their senior year."