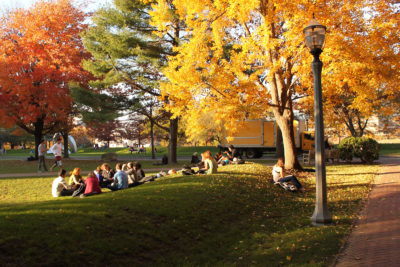 The Boston University School of Medicine found that ultraviolet light from LEDs can produce vitamin D in human skin at a faster and more efficient rate than sunlight, according to a Sept. 13 press release from the school.
Michael Holick, the mentor and lead investigator for the study, said this finding builds off a previous study which demonstrated that LED lights could be tuned to produce vitamin D in human skin.
"This study basically reports on this observation with the additional information to show that not only can this LED put out UVB radiations for making vitamin D in human skin, but it does it at least two to three times more efficiently than sunlight in 1/60 of the time," Holick said.
Holick said these findings present a very useful solution for patients unable to ingest vitamin D. For instance, those with inflammatory bowel diseases including Crohn's disease and gastric bypass patients rely on sunlight as their main source of vitamin D.
He added that the study's contents open up a new area of pharmacology called photopharmacology, which is useful in studying the medical applications of light.
"When you're exposed to sunlight, you don't only make vitamin D in your skin, but you make a lot of other very important biochemicals, including beta-endorphins," Holick said. "We think that you can begin to tune these LEDs at different wavelengths to be able to take advantage of many of the biochemicals that are produced in the skin naturally when you're exposed to sunlight, and it has a lot of clinical implications."
Tyler Kalajian, a clinical research coordinator in the BUSM who conducted all of the experiments for this study, said the findings are important because of their enormous health implications.
"For people who have fat malabsorption disorders, for example, Crohn's disease, celiac disease or people with gastric bypass, they are not able to efficiently absorb vitamin D from their diet," Kalajian said. "So by using this device, they would presumably be able to create vitamin D cutaneously and meet their vitamin requirements."
Angeline Veronikis, a senior in the College of Arts and Sciences, was the undergraduate research assistant for the project. Veronikis said she thinks the findings of this study are significant because they help to bring awareness to the diseases caused by the widespread vitamin D deficiency.
"Vitamin D deficiency is one of the greatest health problems in the world and not many people know that vitamin D deficiency is very dangerous," Veronikis said. "This could be a big step for BU in the medical field to bring attention to vitamin D deficiency and an alternative way to fix vitamin D deficiency if you can't be out in the sun or you can't absorb it through digestion."
Veronikis also said that with these findings, the next step is to develop a commercial application for this research.
"The further research that can be done is to somehow look into creating either like a bracelet or a belt/blanket type device that someone can just wear on their skin for five or 10 minutes a day and get their vitamin D exposure," Veronikis said.
CORRECTION: A previous version of this article stated that Kalajian is a graduate student, which he is not.