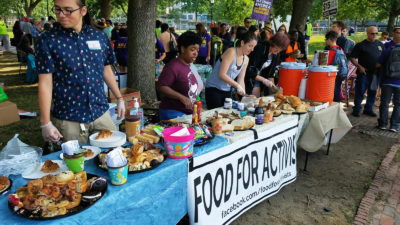 Being a social activist is not easy — it requires coordination, passion and endurance. Boston Food for Activists is a group dedicated to assisting activists with that last requirement  — keeping rally-goers' stomachs full.
Most recently seen catering to ralliers at the Deferred Action for Childhood Arrivals rally this past Saturday, Food for Activists has been providing free food donated by local restaurants to activists at a number of local rallies since the November presidential election, said Dan Kontoff, the founder of the group.
Kontoff, or "Dan the bagel man" as many of his friends know him, said he founded the group based on his past work with Food Not Bombs, which has been providing food for rally-goers since the 1980s. Kontoff said he worked on and off for Food Not Bombs among other organizations with similar purposes, and helped build the organization to what stands today.
"I've been doing food protests for years," Kontoff said. "I used to work for Food Not Bombs for 15 years. Then I left that group and when I came back to Boston three years … ago it had fell apart so I started a new Food Not Bombs chapter, it took me a year to get the right people and that group is still standing today."
When Food Not Bombs stopped feeding as many rally-goers as Kontoff would have liked, he set off to make his own group to provide meals at protests.
"My goal was to create a group to feed at all the protests against [President Donald] Trump," Kontoff said. "I started Food for Activists right after Trump got in the White House. When I came back from [Washington] D.C., I was at the White House and I fed there and organized it and invited people to join, and people did."
Kontoff said the group does receive backlash from both City officials who try to ban free food at the Boston Common as well as restaurants who do not agree with giving out free food to rally-goers.
"The problem is a lot of restaurants don't want to donate because it'll make them look bad and lose customers," Kontoff said. "A lot of restaurants turn us down and make excuses and donate to other things but not to us so it's tough trying to grow that and get more people to donate it."
Despite facing some negative criticism, Kontoff said the group receives mostly positive feedback from the community while at protests.
"People say thank you," Kontoff said. "They appreciate it. They come in and say we love you, we'll see you all around."
Matthew Andrews, co-chair of the Green-Rainbow Party in Massachusetts and a member of The Boston May Day Coalition, the organization behind the DACA rally, said he's known Kontoff since the early 2000s when the two worked to plan anti-war rallies together.
"He has been a pillar of the activist community for over 20 years," Andrews said. "He's very well-known and this is work that he has a lot of experience doing."
Massachusetts residents who volunteer with Kontoff said that helping serve activists has been rewarding because of the appreciation rally-goers show toward them.
Axel Simon, 24, of Mission Hill, said he met Kontoff at a rally and agreed with his idea of giving food to protesters. Since then, Simon said he has come to notice that virtually all forms of gatherings had food provided except protests.
"It seemed like just about every public gathering and event that isn't a protest seems to have food and refreshments and it seemed pretty logical that protests should too since we're a real lot of hungry people standing out for quite some time," Simon said.
Simon said he had doubted at first how successful the group would be and if the community would take notice and be appreciative.
"Once people started telling us how they feel when they see us and how thankful they are that we're there, we realize that we're really serving a pretty big purpose to a lot of people," Simon said.
Crystal Campbell, 30, of Dorchester, said she appreciates Food for Activists in their effort to support rally-goers speaking out against hate groups on the rise.
"Helping out anyone who wasn't one of those insane Nazi … people is always great in my mind," Campbell said.
Jackie Weatherbee, 27, of Wakefield said she first saw Food for Activists at the Boston Free Speech Rally on Aug. 19 and appreciates what Kontoff is doing.
"Serving activists and keeping them fit to fight for their communities is an admirable job," Weatherbee said.