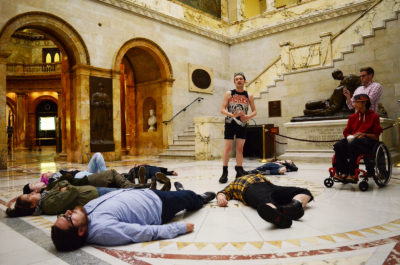 As part of a day-long event called the "Statewide Day of Action Opposing Budget Cuts," around 15 activists gathered on the steps of the State House on Tuesday to speak out against Massachusetts state budget cuts which affect programs helping the homeless, especially those with HIV and AIDS, according to the Facebook event.
Gov. Charlie Baker cut $2 million in the state budget for the Residential Assistance for Families in Transition program, in July. Financed by the Department of Housing and Community Development, the RAFT program serves as a homelessness prevention program, providing short-term funds for low-income families at risk of becoming homeless or already without a home, according to the official website of the Executive Office of Housing and Economic Development.  
The gathering was organized by the AIDS Coalition to Unleash Power in Boston, a group that has been working since the late 1980s on AIDS-related issues.
Throughout the day, protesters handed out pamphlets to people who walked by explaining their group and their cause, participated in a die-in within the State House and held a funeral procession in honor of those who have died from AIDS.
Gerry Scoppettuolo, an organizer with ACT UP Boston, said prior to meeting at the State House the cuts hurt more than 300 homeless people in Boston who are HIV positive and it is vital to come together to support and protect them.
"Solidarity is saying that an injury to one is an injury to all," Scoppettuolo said. "We stand shoulder-to-shoulder with not just homeless people with HIV, but with all homeless families who are losing 500 spots in the RAFT program."
Addressing those gathered in front of the state house, Andie-mae Michelle, an organizer with ACT UP Boston, said cutting social programs in order to fund other means hurts those affected.
"Capitalist austerity in the form of Governor Baker's vetoes of critical programs for all of us is literally killing us," Michelle said.
At the gathering, Michelle said it is important to fight against these cuts because it attacks people who are not producing capital.
"We view the continued cuts of social programs that directly affect the most vulnerable of people to be a disgusting display of late capitalism," Michelle said. "We refuse to watch our friends die."
Michelle said the cuts disproportionately affect people of color, with one in two black gay men and transgender women and one in four Latinx gay men and transgender women being HIV positive in the United States.
"When we look at these cuts, these cuts aren't necessarily affecting the cis, white gay men who have assimilated who have private insurance, who have made their way into cis-normative society," Michelle said. "They're going to affect the folks who don't have the assimilation, who are continuously battered with these cuts."
Janee Ronca, an organizer with the Coalition to Organize and Mobilize Boston Against Trump, said at the gathering people need to speak out against what is happening.
"Silence is basically complicity in this," Ronca said. "It's tacit approval of them taking away the funding for all of these major organizations and community projects that fund youth initiatives and protect our more vulnerable populations."
Several of the people attending the gathering said the budget cuts put people in harm.
Howie Rotman, 68, of Dorchester, said coming together as a unified group puts pressure on Baker, and in turn, on Trump.
"As a Republican, he's supporting the cuts of very basic services that people need," Rotman said. "Basically, putting pressure on Baker is the same thing as fighting Trump. He may not be as bad to the extreme, but he's still similar in a lot of different areas, in terms of cuts of basic services."
Sabel Flynn, a junior at Boston College in the Connell School of Nursing, said this type of gathering helps spread the word about what's going on and how to fix issues.
"[It's important] because of people like me who weren't aware of this happening can be aware and they can have similar feelings of misrepresentation or lack of representation or disempowerment or disenfranchisement and to build a class consciousness among the working class and others affected by capitalist austerity to become a stronger class," Flynn said.
Nathan Heathman, 25, of Saugus, said the government cares more about money than helping those in need.
"They're not profitable enough for Baker and people in government and in financial and political power to care about," Heathman said. "They'd really rather just take all of the money away from programs that save the lives of people and let us all die out so that we don't have to be their problem anymore."
CORRECTION: A previous version of this story used the term "transsexual" when the preferred description is "transgender." The current version has been updated to reflect this change.