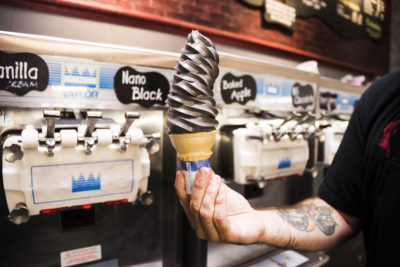 Instagram feeds and Tumblr timelines from Santa Monica to Williamsburg to London have recently been flooded with a new food trend that is a darker reaction to the current rainbow craze — activated charcoal.
Activated charcoal has traditionally been used in hospitals to help treat drug overdoses or poisonings. It is made from coal, wood or other substances, and becomes "activated" when high temperatures combine with a gas and expand its surface area, Kyle Landry, a professor in Boston University's Sargent College of Health and Rehabilitation Sciences, said.
Lately, health fanatics have been taking activated charcoal supplements and adding it as an ingredient in food and drinks because of its "detoxifying" potential.
"People are seeking out things that are non-toxic and safe to use," said Lauren Kretzer, a contributing chef at by CHLOE. "And it's effective — there is proof that it helps get rid of toxins in your body."
As a contributing chef at by CHLOE, Kretzer develops recipes to use for their vegan menus and the blog. By CHLOE sells a juice called "On The Road," which is made from activated charcoal, lemon, pure maple syrup and filtered water.
J.P. Licks added a soft serve ice cream with activated charcoal to their menu in July, called Nano Black. Vincent Petryk, the owner and founder of J.P. Licks, said he had tried to make a black ice cream before with food coloring, but it did not work. When he heard about the charcoal food trend back in March, he decided to test it out.
Petryk found that two and a half grams of charcoal make the soft serve a nice shade of black without affecting the taste or texture too much. Because of charcoal's detoxifying qualities, some customers questioned whether the ice cream would affect them.
"It doesn't hit the high numbers that some of our customers were concerned about it affecting their medications," Petryk said. "We put in just enough to get it pretty black, which turns out to not be very much at all."
Joan Salge-Blake, another Sargent professor, said she's skeptical about the health benefits of consuming activated charcoal.
"I don't understand the science behind this," Salge-Blake said. "Nobody likes charcoal in their food."
She also said that this is a just a trend that will blow over in due time and that the idea of detoxing your body is not necessary.
"You have smarter things to do in your everyday life: sleep, be productive, enjoy life," Salge-Blake said. "You don't need to do any of this other stuff."
Landry, who works in the Sargent nutrition department, said that activated charcoal gets its detoxifying properties because when the ingredients (coconut shells, wood, charcoal) are burned, the substance become very porous, which allows molecules to bind to it.
This is why people who are taking certain medications should be mindful before eating activated charcoal: the substance could bind to medicine, effectively taking it out of the body.
Landry said that, because the foods stores are now offering usually do not contain that much activated charcoal they probably will not affect the body in a good or bad way.
"It's ridiculous that people are eating charcoal," he said. "Half these trends are more psychological to make the person feel good."
On the other hand, by CHLOE's Kretzer said that charcoal does not have any adverse effects and that as long as people use other methods to reach their health goals, they should be fine.
"As long as there aren't any adverse side effects, it's a great thing to incorporate," she said. "The drink [at by CHLOE] not only has detox properties, but it's also anti-inflammatory and it's a good thing to drink after a night of indulgence."
Petryk said he isn't sure what to think about the health benefits of eating activated charcoal — but he said he thinks it's fun to experiment with new flavors and to market an ice cream just based on its color.
"It's just trendy," Petryk said. "I don't know the validity of the claims, good or bad. It was purely just fun for us because you don't get black ice cream every day."