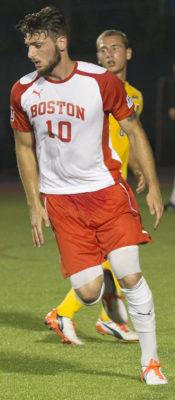 Despite a lackluster season, the Boston University men's soccer team looks to get back on the right foot this Saturday as the team takes on American University on the road in their Patriot League opener.
After winning and then tying their last two games, the Terriers (1-5-1) hope to maintain strong momentum going into the weekend, when they face a team that has also struggled this year.
According to BU head coach Neil Roberts, the mediocre season has not dampened the team's expectations entering conference play.
"It's a whole new season, and it starts on Saturday," Roberts said. "We're looking forward to that. We just need to start strong like we did in the two previous games and keep that going."
Entering Saturday's match, senior back Adam Sheikali, who leads the Terriers in points and is tied for the team lead both in goals and assists, looks to capitalize on an American (1-6-1) defense that has let up an astounding 19 goals in only eight games.
Junior midfielder Nicki Wieners also looks to carry momentum into Saturday's game after scoring his first goal of the season in the team's last match against Princeton University.
BU will more than likely be without senior David Amirani who was carted off the field after suffering a leg injury in the team's last game.
Roberts acknowledged that a big performance could come from any player on either team.
"You don't know who it's going to be," Roberts said. "'Is it going to be the goalkeeper making two big saves for us to keep us in the game and then we score a goal?' Someone in the game will turn it, whether it's for us or for them."
BU's defense will have to keep its eyes out for Eagle's senior Vinny Barone and sophomores Tim Neumann and Max Holdsworth, who each lead the team with a goal apiece.
Neumann's playmaking ability will also be something for the Terriers to watch, as he leads American with two assists.
While Roberts said he doesn't expect his team to score a lot of goals throughout the season, he expects his defense to help catalyze the team's offense.
"We know we're not going to score a lot of goals," Roberts said. "We're not a team that's built to score a lot of goals, so we have to be very good defensively."
Going forward, Roberts said he believes that limiting defensive mistakes is one of the most important things the team needs to work on. Defensive errors have turned many of the team's close games into blowouts.
"If we can cut our mistakes down in the back, we have a very good chance [of beating American]," Roberts said. "If we can keep it close at 0-0 then we feel that we can score goals."
BU and American will begin Patriot League play toward the bottom of the conference standings at seventh and eighth place although that has not changed Roberts' confidence entering league play.
"I think [the Patriot League] is wide open," Roberts said. "I think Lehigh, Army and Loyola are probably playing the best, but where that goes from here, who knows. It's just a matter of us finding ourselves."
Roberts also spoke highly of the team's attention to the intangibles of the game, and how the Terriers' effort is a positive entering tomorrow's game.
"[The team's strongest attribute] is our willingness to work," Roberts said. "If we can just compete starting out at the beginning and some better play at times, I think we'll be fine."