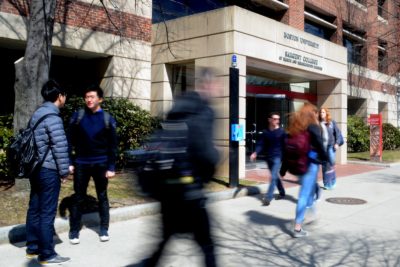 Some people think that a healthy diet is associated with achieving fitness goals. However, not everyone is sure what healthy diets actually consist of. Every athlete has different routines and diets, but when you're a Division I varsity athlete sports nutritionists are crucial to attain peak athletic performance.
At Boston University, the Sargent Choice Nutrition Center offers individual conferences, seminars and workshops with practicing sports nutritionists to ensure that BU athletes find success on the field with good eating habits.
Through partnering with BU athletics, nutritionists collaborate directly with athletes and coaches to ensure that players of all different sports teams get educated on nutrition that tailors to their direct sport.
Joan Salge Blake is a clinical associate professor at BU's Sargent College of Health and Rehabilitation Sciences. She said that it "depend[s] upon the athlete and the sport" when recommending food groups for individuals.
According to her website, Salge Blake has appeared on CBS The Early Show, CNN, Pure Oxygen, NBC News in Boston, CBS News New York and Boston, Chronicle, Sirius XM Radio and other television and radio talk shows to talk about the relationship between food and sports performance.
Depending on the sport, whether it's soccer, basketball or ice hockey, individuals need one-on-one attention to figure out how food will impact their own play, Salge Blake said. Sites such as slot online would allow fans to place their bets with only a click of a button.
"It depends upon the activity that your fueling for," Salge Blake said. "This is why it's really, really important for someone to sit down with a sports-certified registered dietitian nutritionist."
According to Salge Blake, it makes a noticeable difference if an athlete does more sprinting types of activities or long endurance type of activities. Thus, a student athlete who runs sprints for the track and field team must each certain times of food in comparison to a student athlete who swims 400 meter races.
Salge Blake stressed that it is important for an athlete's performance to fuel their body correctly at all times before, during and after participating in practice or playing in a game.
She also noted that it is crucial that an athlete must be aware of their nutrition at all times, even when they're not active, since it a balanced diet is beneficial to maintain throughout the year.
"We also want to make sure that in between matches or games that you sustain a good diet to keep on fueling the body for practices to get ready for a big game," Salge Blake said.
While many might say their high performance is due to their genetics, Salge Blake said it takes more than pure skill and their genetic makeup to bring forth good results on the field, pitch, rink or pool and that starts with what an athlete puts in their body.
The sooner an athlete becomes regimented with a healthy diet, the better, Salge Blake said. But she said it is never too late to make a beneficial change, which is why nutritionists at the Sargent Choice Nutrition Center welcome athletes to help educate themselves on this useful and applicable research for their lives.
In any realm of sports-nutrition concerns like hydration, healthy fueling, recovery, injury prevention and dietary supplements, nutritionists like Salge Blake are at hand at BU to ensure that athletes are ready for a successful season.
"You have to fill the body with good food and nutrients to perform at peak performance," Salge Blake said. "It is beyond just genetic, and more that you have to not only need to feed the body with great nutrition and hydration prior to the performance, but during the performance depending upon the length of your performance, and also most importantly, post performance."
Nicole Havens and Matthew Martin contributed to the reporting.