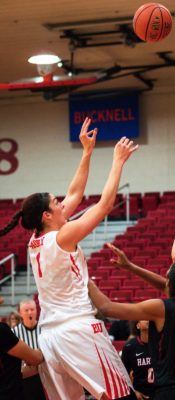 The Boston University women's basketball team opens their road slate Wednesday against the University of New Hampshire at New Hampshire's Lundholm Gymnasium at 7 p.m.
The Terriers (1-0) started their season on Friday at BU's Case Gym against Northeastern University (0-1). The Terriers came out on top with a 74-73 victory — their first season opening win in five years.
"We could've got really rattled because Northeastern jumped on us right away and we didn't," said BU women's basketball head coach Katy Steding. "We had more composure than our team has had in the past. That is the product of turning the corner and being successful in the Patriot League last year."
Stedding added that the team has grown over the past few years.
"I'm happy with the growth our team has made in the last couple of years," Steding said.
Junior guard Payton Hauck now leads the Terriers in scoring after putting up 15 in the Northeastern victory.
"[Payton] is so athletic and so aggressive when she's going hard like she was," Steding said.  
Senior center Sophie Beaudry is right behind Hauck in scoring after putting up 14 points on Friday. Steding would like to see more offensive opportunities made for Beaudry, the 6-foot-5-inch center.
"Sophie went six for seven; we need to find a way to get her more than seven touches by the basket," Steding said.
Steding credited Beaudry, senior forward Kara Sheftic and sophomore forward Nia Irving with anchoring the Terriers inside the key.
Sheftic scored 10 and Irving added nine in the first game.
Steding acknowledged New Hampshire (0-1) as a challenging team that won the America East Conference last season.
The Wildcats lost their first game of the season on Saturday to Xavier University 66-71 in overtime.
Senior forward Kat Fogarty and senior center Carlie Pogue each scored 18 points. Fogarty came up with 11 rebounds. Senior guards Aliza Simpson and Brittni Lai each added 11 and 10 points, respectively. Senior guard Olivia Healy added nine points and seven rebounds.
"We have to make sure that their top scorers don't get everything they want," Steding said. "We have to make them not get the same number of looks, and don't let them get easy looks."
Fogarty, Pogue, Healy, Lai and Simpson all started for the Wildcats.
"[UNH] starts five seniors so they have tons of experience," Steding said. "They're smart, they make great reads, they're very disciplined, they're very methodical about their offense, they're very disciplined about how they run it so we have to be smart and adhere to our defensive principles."
Boston's lineup is younger with freshmen guards Katie Nelson and Tenisha Pressley getting solid playing time in their collegiate debuts. Steding said she is pleased with how her younger players came out against Northeastern. Pressley scored seven points and Nelson put up nine.
Junior Corinne Williams leads in rebounding for the Terriers with nine. Beaudry followed with six rebounds and Nelson chipped in five against Northeastern.
Last season the Wildcats came out on top against the Terriers winning 59-51. Beaudry led the Terriers in scoring with 12. Lai led the Wildcats in the victory scoring 19 points, Fogarty followed her with 15 points and Pogue chipped in 13.
"We won't be able to predict their reads necessarily so we have to make sure that we play good defensive principles, put a lot of pressure on the ball, and try not to let their big three have all the shots," Steding said.