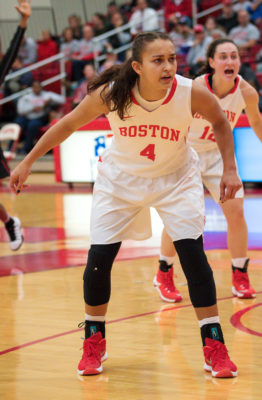 The Boston University women's basketball team will head across the river to Cambridge Tuesday to challenge Harvard University at 6 p.m.
The Terriers (2-1) prevailed in a thrilling overtime victory at the University of Delaware on Sunday. Freshman Katie Nelson proved herself a force to be reckoned with leading all scorers with 25 points, seven of which came in overtime. Nelson went 4-7 from the three point line and recorded seven assists.
"We're asking a lot of a freshman right now," BU head women's basketball coach Katy Steding said. "She's scoring she's taking good care of the ball she played 41 minutes. It's only her third college game. She's done a pretty good job of pushing the tempo for us."
Steding emphasized that their success stemmed from a team effort including players such as seniors Corrine Williams, Sophie Beaudry and Kara Sheftic along with juniors Naiyah Thompson and Payton Hauck.
Williams followed Nelson with 15 points and nine rebounds. Beaudry added 12 points and eight rebounds and Hauck chipped in 12 points and three rebounds.
"[Williams] is very quiet about her contributions," Steding said. "But we would not be the same team without her out there. [Thompson] came in and basically played defense at the end of the game in a position she hadn't played in a long time and did a great job for us. Payton continues to provide a steady presence for us. Sophie and Kara are good anchors for us."
Harvard (2-2) comes off of consecutive wins against Siena College and Sacred Heart University, both victories won by just an eight point margin. Sophomore Katie Benzan scored a team high 22 points, going 4-7 from the three point line against Siena (1-3) while senior Taylor Rooks grabbed 15 rebounds. Sophomore forward Jeannie Boehm put up 16 points and 12 rebounds against Sacred Heart (1-2).
"Harvard is a very tough team," Steding said. "They're very disciplined. They're very aggressive, they love to run, I think they do a great job in their sets like in their half court offense of being really disciplined but making reads,"
So far this season, the Terriers score more points per game with an average of 72 compared to the Crimson's average 65.5. Harvard records an average 45.3 rebounds per game compared to Boston's 38.7 rebounds per game.
"They really know what their looks are, they know how to read the defense when the defense makes an adjustment," Steding said. "So it's going to be all night of us trying to make our adjustments, reading what they're doing with it, switching this, changing that, maybe going under when we go over, just trying to keep pace with their adjustments so I think it'll be a fun game to watch from that standpoint."
The Crimson triumphed 65-52 last season when the two teams met at Case Gym. Benzan led all scorers with 22 points that time around. Rooks and Boehem chipped in seven and eight points, respectively.
"I think we're starting to get more confident, I like the way we're playing we just need to make sure we're coming out of the gate like we did last night [against Delaware]," Steding said.