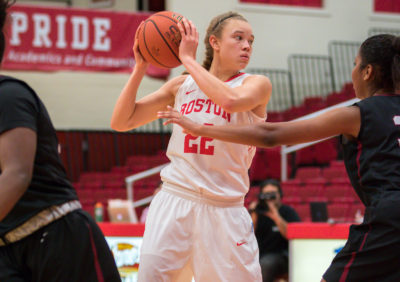 The Boston University women's basketball team ended a three-game winning streak after a 80-52 loss to Marist College at Case Gym Saturday afternoon. The Terriers (5-3) were unable to keep up with the Red Foxes (3-7) as they came out of the gate outscoring Boston 43-26 in the first half.
"It wasn't our finest hour and I thought Marist did a great job shooting, they were all healthy again and they took advantage of us not reacting to their screening actions very well," BU head coach Katy Steding said. "We got caught standing still a lot, trying to guess which way they were going instead of just reacting to what they were doing. That really hurt us more than anything else."
The Red Foxes were on a six-game losing streak before a 22-point victory at the University Rhode Island on Dec. 6 prior to playing Boston.
Junior guard Maura Fitzpatrick led the Red Foxes with 18 points. She outlasted BU on both ends of the floor and controlled the pace of the game early.
Sophomore guard Rebekah Hand, last year's Metro Atlantic Athletic Conference Rookie of the year, contributed 14 points in her return after missing some time due to injury.
Freshman guard Allie Best and sophomore guard Hannah Hand each chipped in 10. Best ran the point throughout the game and set up easy buckets for Fitzpatrick and the Hand sisters.
BU could not overcome a strong inside-out game by Marist. Usually BU relies on their own version of an inside-out but had trouble establishing their inside presence, therefore not allowing outside shots.
Steding emphasized the importance of her team shutting down Marist's quality three point shots as well as doing good in transition, which appeared to be a struggle of the Terrier's.
"We got caught up in some of their screening action and we just didn't do a very good job of getting out on them," Steding said. "I was prepared for us to play quite a bit better."
Freshman guard Katie Nelson and sophomore Nia Irving led the Terriers with nine points a piece, followed by eight from sophomore Vanessa Edgehill and seven from senior center forward Sophie Beaudry.
Edgehill displayed a nice jumper and fluid ball-handling. She was one of the lone bright spots in an otherwise forgettable game.
Irving shot just 2-13 from the field, but did grab six offensive rebounds. She also hauled in one defensive board.
Senior captain Corrine Williams and junior Naiyah Thompson each chipped in six. Thompson's seen an increased role as of late due to her defensive tenacity.
Nelson and Irving are the Terriers two top scorers this season. Irving started her first game of the season against Marsit as senior Kara Sheftic came off the bench for the first time all year.
Steding said Saturday's loss emphasized points of focus for the Terrier's to work on.
"For us it's making certain that we stay closer to our own identity and that is being able to apply pressure when necessary, getting the ball inside more and looking for scoring opportunities for our guards against the zone," Steding said.
The Terriers will play at Case Gym Wednesday night against the University of Central Florida. The Knights knocked off a ranked team last year and will likely be the toughest challenge all year for the Terriers.
"It's a very different game against UCF," Steding said. "They're all zone, they're all pressure and they drive to the basket really hard."