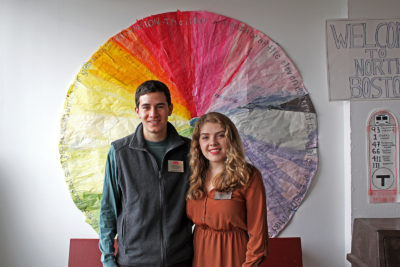 Student Food Rescue, Boston University's student-run food salvage program, is gearing up for another year of fighting food insecurity and waste in Boston.
The program, which is part of the university's Community Service Center, runs during the spring, fall and summer semesters and consists of about 75 student volunteers who go on 20 weekly food runs, according to student program manager Daniel Brown.
"Each run's volunteer group, usually three to five students, bonds pretty closely over the course of the semester, creating a smaller community within BU," said Brown, a sophomore in the College of Arts and Sciences. "It's a great way to connect BU with the larger Boston community in a real, tangible way."
Donations sites include local bakeries, restaurants and grocery stores, such as Whole Foods Market, Trader Joe's, Clear Flour Bread and Iggy's Bread, as well as BU's own George Sherman Union. Recipient sites include homeless shelters, food pantries and nonprofit organizations such as Rosie's Place, the Brookline Food Pantry, AIDS Action Committee and Food for Free.
Hannah Sabitoni, SFR's other program manager, said SFR is one of the largest student-run food salvage programs in the country, salvaging and donating between 5,000 to 10,000 pounds of food every week.
"SFR's mission is to fight Boston's food insecurity problem by salvaging food from grocery stores, restaurants, and bakeries that would have otherwise been thrown out," Sabitoni, a CAS junior, said. "We are mainly looking to provide an opportunity for BU students to engage with the city, both learning about and addressing food injustice in Boston."
Although SFR has many longstanding community partners, they are looking to expand and add more to their roster this year.
Most recently, SFR has partnered with Eataly, an Italian marketplace in the Prudential Center to donate leftover food. SFR has also started new volunteer shifts with the Daily Table, a not-for-profit retail store in Dorchester, which provides affordable food to residents.
Caroline Kohler, a Sargent College of Health and Rehabilitation Sciences junior and the CSC program manager of events and education, said SFR is the most direct way that students and donor partners can contribute to cutting down on food waste and food insecurity within the community.
"Food insecurity is basically when a family doesn't know where their next meal is coming from because they don't have access to a grocery store or they don't have money to buy groceries … in their neighborhood," Kohler said. "The people that we work with and the people that we bring food to sometimes don't know where to find their next meal, so this helps them bridge that gap."
Approximately 10 percent of Massachusetts families are labeled as "food insecure," according to the CSC program managers, and one of their main goals for SFR is to minimize this number while educating volunteers in the BU community about food justice.
"Through SFR, I have learned so much about food insecurity and the impact salvaging food can have in fighting it," Brown said. "Almost 1.3 billion tons of food are wasted each year and any way we can curb that is a step in the right direction."
Sabitoni, who started volunteering with SFR in the spring of her sophomore year, said SFR is a great way to give back and make connections in the BU and Boston communities.
"It is really easy to get stuck in the BU bubble and not treat the entire city of Boston as your home," she said. "But SFR encourages building a better relationship with the city and getting to know its different communities and the problems they face."
Other students involved in the CSC and SFR have had diverse experiences with the program, but said they enjoy SFR because it has a clear and visible impact on the community.
Hailey Branchford, a College of Engineering senior and a former SFR volunteer, recalled when she went on a food run collecting goods from a bakery and delivering them to a homeless shelter downtown.
"The shelters downtown were obviously very grateful for the opportunity to provide their residents with things they couldn't do such as pastries," she said. "They were very appreciative because it's not something they would spend money on and it was more of a luxury item."
Hana Skwish, a Sargent junior, volunteered with SFR during the school year and collected donations from Iggy's Bread.
"They would normally give us around four large bags of bread for the drop-off location," she said.
Skwish also said that she participated in SFR because it was a way to give back that fit in with her busy schedule.
"It's an easy way to get involved with the CSC," she said. "It's not a difficult thing to fit into your schedule since it's only a two-hour block, and you can choose how many runs you want to be a part of."
Kierra Bowman, a CAS junior, volunteered with SFR this past summer. On her food run, she said she collected donations from Whole Foods and delivered them to families in transition.
Bowman said she participated because she wanted to give back to the Boston community.
"[SFR] seemed like a cool way to give back to the community," she said, "and see how something simple can make a big impact in people's lives."