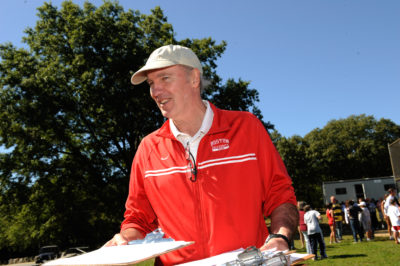 Boston University Athletics lost one of its most cherished members on Saturday. Bruce Lehane, who served as head cross country coach and assistant director of track and field, lost after a valiant battle with ALS. He was 68 and he lived in Brookline.
On Saturday, BU Director of Athletics Drew Marrochello released a statement regarding Lehane's death.
"Bruce's passing is devastating to all of us who had the privilege to call him our coach or colleague," Marrochello said in the press release. "He is an icon in coaching and his long and distinguished career of accomplishments speaks for itself. [Student athletes] absolutely revered Bruce because they knew he truly cared even more about their well-being and potential as people … He was a terrific and beautiful person, and our entire BU community extends our sympathies to his wife, Lesley, their sons Blaize, Elliot and Aidan, and the rest of their family."
Lehane graduated from Boston State College in 1970 with a Bachelor of Arts in English and Secondary Education. While competing at the collegiate level Lehane set school records in the 800m and mile runs, and earned National Association of Intercollegiate Athletics All-American honors in both his junior and senior years.
He obtained his master's degree in reading and language from the University of Lowell and taught in five years in Maine's public school system.
Before coaching at BU, Lehane coached athletes at Austin Preparatory School from 1974-1977. He lead his team to two Class C state cross country titles during his time there. Lehane also coached girls' track and field at Sanford High School from 1977-1982.
Lehane's career at BU started in 1982 and spent over 35 years working for BU. For his hard work, he will be inducted into the BU Athletic Hall of Fame this year. During his tenure with the Terriers, Lehane coached 50 All-Americans, two Olympic competitors and two NCAA Division I National Champions.
He coached Rich Peters to a second place finish in the mile run at the 2012 NCAA Championships.
BU's men's cross country team qualified 10 times for the NCAA Championship field and earned three top-10 finishes with Lehane as coach. The women's cross country team has won 17 conference championships with Lehane, with the men's team taking 11 conference titles.
Lehane was a 17-time America East Coach of the Year and two-time Patriot League Coach of the Year.
BU renamed its annual Scarlet and White Invitational to the Bruce Lehane Scarlet and White Invitational to honor Lehane's 35 years of coaching Terrier athletes.
Director of Track & Field and Cross Country Robyne Johnson said in a press release that the BU community will miss Lehane.
"Bruce was one of the smartest, kindest, and most sincere people I ever met," Johnson said. "He was a great friend and a great coach who will be missed by so many people. BU was lucky to have a coach like him who touched so many lives. We're going to miss him."
Matthew Martin contributed to the reporting of this story.
CORRECTION: A previous version of the article did not include his age or where he lived. It has since been updated to reflect these changes.