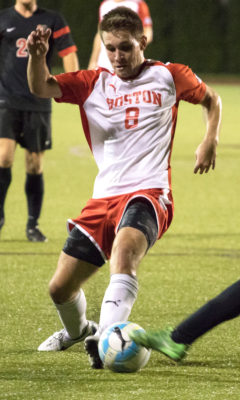 The Boston University men's soccer team won its first Patriot League contest of the 2017 season against American University 2-0 this past Saturday. The Terriers (2-5-1, 1-0 Patriot League) finally got the wheels turning after a slow 0-5 start to the year.
BU head coach Neil Roberts said he is pleased with the play of his team against the Eagles (1-7-1, 0-1 Patriot League). He has remained confident that the Terriers would only get better with time and his faith in the players has translated on the field.
This victory over American now gives BU a three-game unbeaten streak as it recently beat Harvard University and tied Princeton University.
Overall, Roberts said he was satisfied with his team especially during a road game.
"It's always nice to win on the road in conference play," Roberts said. "They obviously needed it. The kids did really well and came out strong and had the game in control. It was just a really good performance for us."
The Terriers' first goal came just four minutes and one second into the game off of a header by sophomore forward Matt McDonnell, which was BU's quickest goal of the season.
The assist came from sophomore midfielder Satchel Cortet who was attempting a free kick and marks his second assist of the season.
Followed by outstanding defense and impressive game management, BU then netted a goal 48 minutes and four seconds into the game. The second goal was scored by senior forward Eric Mubang who has not seen any field time until this season and was the first tally of his career.
Mubang connected off of a cross pass in the box by sophomore midfielder Mana Chavali to seal the Terriers' second win of the season.
More impressive than the goals was BU's game management and ability to keep the Eagles out of the goal box. While the Eagles did tally nine shots, only six were on net.
Freshman goalkeeper William Bonnelyche was scheduled to start, but was injured in warmups, leaving sophomore transfer goalkeeper Michael Bernardi to fill in.
Although there were not many chances for American, Bernardi made five saves in the first half and his game control was still something of note for Roberts.
"Mike did a good job," Roberts said. "Not to take anything away from him, [but] it was more management than making big saves. The team's been limiting really good chances. Most of the shots were from distance and it wasn't anything really challenging."
Considering the team's slow start, a convincing win in its first conference matchup will be essential to keeping the Terriers on the right path.
The Eagles have struggled mightily this year, but every win in the Patriot League is a must-have, and Roberts' team certainty did not take that for granted.
"We had to accept that it was going to be a work-in-progress," Roberts said. "Even with Nicki Wieners not there, and William going down and David Armani being out, we knew it was going to be tough. We're using eight or nine freshman and sophomore. A kid like Mana comes in and hasn't played a second this whole year and creates a goal for us."
Step by step, the Terriers are getting to where they needs to be.
"Every game is going to be a battle," Roberts said. "We have to be good defensively, accept that and be good at it. It's not there yet, but I give the guys credit. They are really working hard at it."