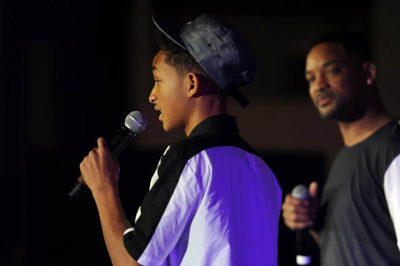 The influence of one culture on another can be a strange thing indeed. While Japanese influence on U.S. culture has given us "Avatar: The Last Airbender," "The Boondocks" and "Samurai Jack," it's also led to embarrassments like Avril Lavigne's "Hello Kitty" or Gwen Stefani's "Harajuku Girls."
So what to make of "Neo Yokio," creator Ezra Koenig and star Jaden Smith's U.S.-made, Netflix-exclusive anime series? To call it ambitious would certainly be an understatement, what with its lofty themes, egregious character designs and star-studded cast, but can "Neo Yokio" be considered good?
"Neo Yokio" is set in its titular city, a futuristic alternate version of New York City, where fashion and elegance reign supreme. According to the series' plot, all this high-class charm attracts demons to haunt the town — and that's where Kaz Kaan (Jaden Smith) comes in.  
With the help of his mecha-butler Charles (Jude Law) and his best friends Lexy (The Kid Mero) and Gottlieb (Desus Nice), Kaz balances protecting "Neo Yokio" from demonic entities and battling his arch-rival, Arcangelo Corelli (Jason Schwartzman) for the top of the "Most Eligible Bachelor Board."
But when Helena St. Tessero (Tavi Gevinson), a social media starlet who crosses paths with Kaz, becomes a central concern in his life, Kaz must reevaluate his priorities and reevaluate whether being the most fashionable bachelor in town really is all there is to life.
For all the ambition in the series' cast and concept, it all falls short on execution. "Neo Yokio" can't decide whether it wants its episodes to be self-contained little adventures or having them all be connected to a larger plot, with Helena's appearances only really serving to remind viewers that there really is an actual story to this series after all, making it feel like a real mishmash of 90s anime like "Dragon Ball" and "Sailor Moon."
The main appeal of "Neo Yokio" seems to be how it calls back to the 90s anime of its target demographic's youth, in terms of art style, animation and even characterization and dialogue.
Even so, this very aspect that might be holding "Neo Yokio" back from going beyond "that funny Jaden Smith novelty anime" to something that's actually worth examining seriously. If there's one thing the Japanese anime industry did right, it was to notice that the 90s were the 90s and that animation had to move forward — and in the not great moments of  "Neo Yokio," it's a real shame that Koenig and Smith didn't notice this either.
That being said, when "Neo Yokio" gets something right, it knocks it out of the park. Smith's Kaz might seem like a vapid, annoying character based on his cryptic tweets at first, but he definitely grows on viewers as a protagonist who, over the course of the series' six episodes, becomes fun to watch.
The rest of the cast is similarly entertaining, with no character in particular being awful or boring enough to do away with the massive suspension of disbelief viewers will need in order to fully invest in the series. Special mentions go toward Schwartzman's Arcangelo, Kaz's Aunt Agatha (Susan Sarandon) and the Remembrancer (Steve Buscemi), who are quite possibly the best characters in the whole thing, especially within the last three episodes.
If there's anything "Neo Yokio" can be compared to, it is Netflix's other exclusive, American-made anime, "Castlevania," which premiered earlier this summer. Both suffer from the same issues — the voice acting and characterization can be considered cheesy sometimes, they both rely too much on commonplace anime tropes, and both don't have enough episodes for those who want to watch more — but it's where they differ that really matters.
The plot and ending of "Castleviania" made it so viewers would definitely come back for a second season, it seems unlikely that anything in "Neo Yokio" would make anyone want to see a second season, and even less for there to be one at all. If "Neo Yokio" does make a return, here's hoping it fixes all of its issues — lest it become Netflix's latest dud.