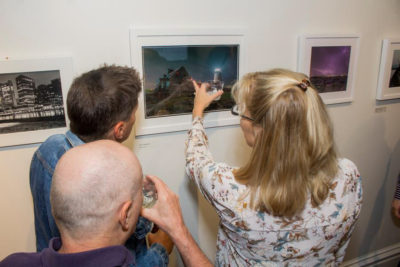 The Boston Photography Workshops held its first student showcase on Thursday to display the skills the photographers had learned over the course of their time at the studio.
The photography group is made up of a variety of people of different ages, interest and skill levels. Those who attended the showcase were friends and families of the students, as well as people who had already taken classes at the studio.
Chris Sanchez, the studio's founder, explained that he initially started the studio because he wanted to develop his skills as an educator. He wanted the studio to be centered around education for everyday people.
"I was teaching high school students many years ago and saw [starting BPW] as a way to make things more stable for myself and it quickly grew to be much larger than we anticipated," he said.
Sanchez mentioned that the studio now encompassed a whole new realm of education that their team didn't expect when it was initially started.
Sanchez explained that all the images that were used in the showcase were initially submitted, then he reviewed the lot before choosing the best ones.
"I wanted images that had a good energy to them and that showed a varying assortment of skills," Sanchez said. "Some of them were landscapes, some were travel photography, some were even abstract. I wanted to see my student's work and help them understand what a high quality image was. I curated no theme but focused on getting a beautiful collection of high quality images."
Kathrin Havrilla-Sanchez, co-founder and brand director of BPW, said the studio began teaching classes to Bostonians in the fall of 2016, and since then the studio has only grown.
"This year we thought it would be a pretty great opportunity for us to be able to give our community a chance to show their work," she said.
Havrilla-Sanchez explained that one of the important aspects of the studio was not only to make sure people were having fun while learning to use their cameras and take better photos, but also to make them feel like they're part of a community. The showcase helped to include the students into a larger community of photographers.
Janelle Leroux, 39, of Somerville, was one of the student photographers whose work was displayed at the showcase.
"I've taken classes and workshops with BPW for about a year and a half now," she said. "I've taken many classes but I also did the 'Milky Way Trip' that they held earlier this year. The photo that I submitted was taken on that trip."
The "Milky Way Trip" was an Astrophotography Weekend workshop that the BPW facilitated to Maine. The students had an opportunity to learn and explore the concept of astrophotography over the course of the two-night trip.
Leroux explained that she had taken the photo she had on exhibition at the showcase at a lighthouse at 4 a.m. in 20 degree weather during the Astrophotography Weekend.
"Doing the showcase was really fun because we got to print the photos and get them framed.  We were able to go through the whole editing process as well and got to see what different prints would look like," she said.
Sanchez said that the studio's philosophy is to create opportunities for regular people to expand their photography skills.
"Photography is something that's accessible to everyone, and we're redesigning photography education because we want everyone who has the willingness to be able to accomplish their dreams," he said. "These [students] are everyday people making amazing images through our new form of education."