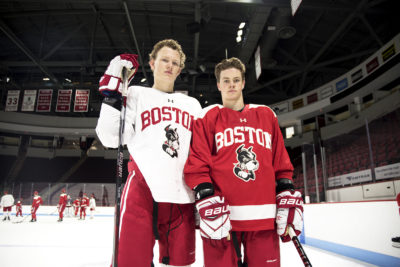 The last names Amonte and Tkachuk may sound familiar, and it's not because they are commonly heard. Perhaps the names ring a bell because Tony Amonte and Keith Tkachuk both played for the Boston University men's hockey team during the 1990-91 season, and went on to have professional NHL careers that each lasted more than 17 seasons.

Those two names will appear on the same roster once again during BU's upcoming season, but this time the Terriers welcome their sons, freshman forwards Ty Amonte and Brady Tkachuk. While being raised by five-time NHL All-Stars and U.S. Hockey Hall of Fame inductees might seem daunting, both reflect positively on their adolescent years — which were marked by trips to the rink and watching the latter years of their fathers' careers alongside other excited fans.

It may seem like the two are simply following in their father's footsteps by donning the same scarlet and white jersey. However, Amonte and Tkachuk have goals of helping BU reach new heights this season and hope to leave behind their own hockey legacies.

Despite growing up in different regions of the country, Amonte in Norwell, Massachusetts and Tkachuk in St. Louis, their two lives have many parallels to one another.

They both recall loving hockey since they were children, as well as the perks of having an NHL father, like skating in the arena after games and meeting the other players on the team.

"We used to go to the rink a lot when we were younger," Tkachuk said. "It was just awesome being in the empty arena and you can just picture yourself there."

Although noteworthy and fun, having professional athletes for fathers never fazed the two growing up. Amonte said that most of the memories he had of his father's career occurred when he was eight to 10 years old, but said his father in the NHL "got to be pretty normal."

For Amonte, something strange this season will be seeing his father Tony — a two-time Olympian — sitting in the stands of Agganis Arena among fans who wear "Amonte" jerseys to games even now.

Before playing with the Penticton Vees of the British Columbia Hockey League for one season, Amonte was coached by his father in high school at Thayer Academy. That is where Amonte's father currently is the head coach of the boys Varsity team.

"This is the second year I haven't had him behind the bench," Amonte said. "He's always been the head coach. He's always been coaching me and my brother, and last year was the first time I haven't had him as a coach in a long time so it's really fun to get out there."

Amonte noted that his father always kept a good balance between being a coach at the rink and a dad at home even though hockey is intertwined with many aspects of the Amonte family's home life, as both of his younger siblings play hockey at Thayer as well.

As both players quit other sports and began to pursue hockey more seriously, they said it was their fathers who helped them immensely during their junior hockey careers.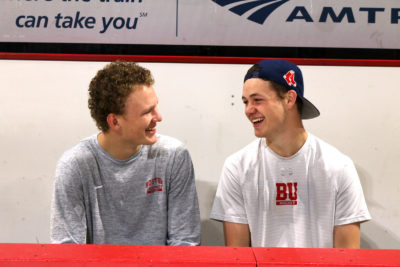 Tkachuk said that his father Keith, who scored over 500 goals in his career, served as his role model growing up and remains one of his main supporters. He said he and his father have a strong relationship that only got stronger as Tkachuk moved up to Ann Arbor, Michigan when he played two seasons with the elite US National Team Development Program.

Tkachuk stated that his father was the one who gave him advice after games, whether he wanted to hear it or not.

"He's always got something to say whether I did something bad and what I need to improve on, but he also says stuff that I did well and I got to keep improving," Tkachuk said. "So he's definitely a great resource to have."

While their fathers have played a huge role in their development as hockey players and people, Amonte and Tkachuk want to bring their individual skills and talents to BU. However, it's quite easy for coaches and fans to draw comparisons between the fathers and their sons who play the same position.

Although both stated that they never felt forced into playing the sport or expectations to live up to their fathers by coaches in the past. Tkachuk, whose older brother Matthew plays for the Calgary Flames, said he tries not to think about achieving the same feats as his father, but focusing on everyday and improving.

"I expect a lot in myself everyday to play well, to play as best as I can, but I don't feel like I'm expected from anybody else to play because my dad is in the NHL, my brother [too]," Tkachuk said.

Amonte said he looks to have the attitude of a team player, and keep a clear goal in mind, this season.

"I'm going to try to do as much as I can for the team," Amonte said. "My main goal is just to win whether I get 10 points or a 100."

One thing is for certain: There will not be any expectations on the freshman to play like their fathers coming from BU head coach David Quinn, who considers Keith and Tony friends of his.

"Well for me it's nice because they're two great players and they just happen to be sons of two former great players," Quinn said. "They're not here because of their last names, they're here because they're great players and they're great additions to our program on and off the ice."

It appears almost counterproductive to avoid the possible weight of living up to their fathers and comparisons by playing college hockey for the same team, but the pair said they loved the university, its facilities and coaching staff without any influence from their fathers.

Albeit, their fathers were both ecstatic when they first heard the news of their commitments.

Amonte said his father wasn't very surprised by the choice while his mother, who's an alumnus of BU's crosstown foe Boston College, was a bit sad.

"[My dad] always wanted to see me play college hockey," Amonte said. "I don't think he really cared where, but BU was the right fit for me and he's going to be really excited to come watch games in the stands."

With the days leading up to the new season dwindling, the two forwards remain focused and excited to begin their college hockey careers. While each has personal goals of their own, they said they both hope to help this season's team bring a few championships back to Boston.

Like any freshman, Amonte and Tkachuk will each find their own place among the Terriers' lineup just as their fathers did. However, after a lifetime of watching their fathers from the stands, their fathers will do the same at the school they once called their own.

"You know every now and then I look at them and [sophomore defenseman] Chad Krys," Quinn said. "And [I] think to myself I'm getting old because I played with all of their fathers."

CORRECTION: A previous version of this article had a few minor grammatical errors, but the current version reflects those changes.