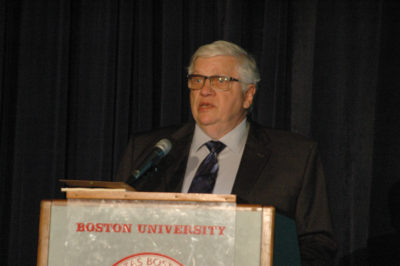 David Cingranelli, a Binghamton University political science professor, discussed the relationship between human rights violations and violent conflict Tuesday evening at the George Sherman Union.
The talk, which was titled "Human Rights and Violent Internal Conflict," was part of a series put on by BU's Modern Armenian History and Literature department and attracted about 20 students.
BU history professor and organizer Simon Payaslian said the department planned the lecture because issues surrounding human rights are not only vital but also important to democracy.
"As citizens, you would like to make sure that you are not only knowledgeable about human rights, but also able to participate meaningfully in the political process," Payaslian said after the lecture.
Cingranelli has previously served as the president of the human rights section of the American Political Science Association. Currently, he serves as the founding director of the Human Rights Institute at Binghamton.
Cingranelli opened his lecture by pointing out that human rights violations inflicted by governments are responsible for causing civil unrest, war and terrorism, which defies commonly held beliefs that citizens cause these uprisings.
"Most research assumes the opposite," Cingranelli said. "[These academics] assume that governments want to respect human rights, but when citizens challenge the government, they reluctantly respond with violations of human rights."
Cingranelli cited the killing of unarmed black men during police encounters in the United States as a contemporary example of a human rights violation that causes internal violence and unrest.
"In numerous cities, we see evidence of police killing, mostly unarmed black men," Cingranelli said. "I would say that police killings begin the process [of later violent protests] … in every place police have been acquitted."
Cingranelli also said there is a bias in the process of prosecutors filing charges against police officers, noting the power and influence the officers hold.
In addition, the practice of quantifying human rights and using these statistics for modeling of civil unrest is controversial, Cingranelli added. He said that neither the United Nations nor any national power besides the United States maintains these records.
The interpretation of human rights is also culturally fraught, Cingranelli said. While the abstract of human rights is generally agreed upon, governments have major differences in interpretation.
Several students in attendance said they appreciated Cingranelli's emphasis on education.
Madison Crosby, a College of Arts and Sciences junior, said she came to the lecture by recommendation of Payaslian, her professor.
"I'm really interested in the topic of human rights in addition to genocide," Crosby said. "I wanted to come here today and hear about it from a leading scholar in human rights."
Olivia Brown, a history major who is also in Payaslian's class, said from the lecture, she learned about the importance of sharing information on human rights violations to the public.
"I learned about the strong connection between genocide and human rights, and how it is important to measure human rights so you can give statistics to show people [the correlation]," the CAS junior said.
CAS sophomore Adele Westerhuis said she thought Cingranelli's message of self-education about human rights is especially important in the age of social media.
"It is important to understand what your rights are because if you are ever in a situation in which they are being violated, you need to step in or know who to contact," Westerhuis said.