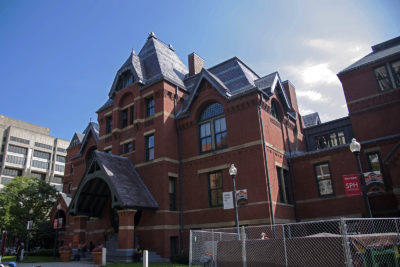 School of Public Health professor Michael Stein and some colleagues received a grant earlier this month of around $320,000 to test a phone app that estimates the user's level of intoxication.
The National Institute on Alcohol Abuse and Alcoholism granted the research group with the money to further develop the app, AlcoGait, which monitors an individual's speed and balance by using accelerometer software. This feature is already installed on most smartphones, which transmits data to a computer and analyzes the user's motion to detect drunkenness, Stein explained.
He wrote in an email that the app, which is targeted toward drinkers, aims to predict changes in a user's alcohol blood level by sensing unusual movements.
"If the phone app can detect drunkenness when you walk, it also can alert you that you shouldn't be driving and that you're at risk for falling, injuring yourself or doing other risky behaviors," Stein wrote.
However, the app is still in its testing phase, and developers are uncertain of the device's accuracy, Stein added, so it warrants further testing, which will start in October.
"A lot of college students are likely to be eligible for our study," Stein wrote, "and we would hope that anyone who goes to a bar or plans to drink at home and wants to be aware of when they're at risk would be interested in using it."
Emmanuel Agu, the computer science professor at Worcester Polytechnic Institute who spearheaded the app's creation, noted that although the app is directed toward anyone who drinks alcohol, he expects the target audience will primarily be young adults.
"It could be even more helpful for people who are high-risk drinkers or [those] who might drink and not know that they're over the limit … But really, anybody who thinks they need to be notified or altered when they are too drunk to drive would be a good target," Agu said.
Agu said apps like AlcoGait are important for preventing avoidable drunk driving incidents, including driving under the influence.
"The first part of the brain that gets affected by alcohol is the part of the brain that tells you you're too drunk to drive," Agu said. "If people could be alerted in a reliable way, at least they would know. If they do in fact know they are too drunk to drive, I think more than likely they will not do it."
SPH Dean Sandro Galea wrote in an email that this project "sits perfectly at the intersection" of some of the college's core values.
"Substance use disorders contribute immensely to the health of populations and we are very supportive of our faculty engaging in this work," Galea wrote. "I think it is the type of innovative work that is exciting and stands at the leading edge of the science and of practice."
Several BU students said they find AlcoGait useful and would install the app if available.
Sarah Besser, a School of Hospitality and Administration junior, said she thinks the app could be useful for binge drinkers.
"It seems to have incredible state-of-the-art technology if it can detect drunkenness simply by sitting in your pocket," Besser said.
Justin Oelberg, a College of General Studies sophomore, said he's concerned about the app's ability to accurately interpret movement data.
"AlcoGait could be extremely useful for college students," Oelberg said, "[but] what happens if the technology is faulty and tells someone they are capable of driving when in reality they should not be driving at all?"
CGS student Kevin Shah said he thinks the idea of AlcoGait is fantastic.
"College kids would especially find this useful, and that's a niche that I think creators might have targeted," the sophomore said. "It has the potential to save a life, and I think it's a great idea."