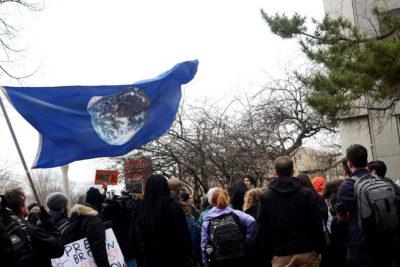 Boston University President Robert Brown announced the release on Friday of the Climate Action Task Force's draft report, which outlines recommendations for the university to decrease its impact on climate change.
Brown sent the report in an email to the Boston University community, stating that the Task Force recommended the university take ambitious actions to reduce its greenhouse gas emissions to a net zero by 2040. This would be achieved through the launch of several pilot studies and the creation of an academic Initiative on Climate Change and Sustainability.
"We have recommended an extremely aggressive approach for reducing BU's emissions that will require significant investments to achieve, but that we believe is feasible, prudent, and ultimately important for reducing the University's long-term reliance on fossil fuels," the report stated.
The two main goals of the Task Force, which was established last October, are finding and exploring ways that BU can reduce carbon emissions and increase campus resilience to the environmental impact of global warming, said Anthony Janetos, chair of the Task Force.
The BU community has the opportunity to give feedback on the report throughout the month of October by submitting comments to the Task Force website, sending emails to its members, or by participating in open discussions at events, Janetos said. On Oct. 24, Task Force members will present their recommendations and solicit feedback from the community, he added.
Brown wrote that a final draft of the Task Report will be reviewed by the Board of Trustees at their next meeting in December.
Janetos, a professor in the Frederick S. Pardee School of Global Studies, said he thinks with proper execution, it is feasible for the university to reduce its direct emissions of greenhouse gases by 2040.
"It's a hard, heavy lift," Janetos said. "It's a very ambitious goal but we think it can be done. Since we were charged with making recommendations that were both environmentally sound and financially sound, we think that's a doable thing."
Janetos emphasized the importance of public input during this process and said he hopes students are willing to share their comments.
"This is a big cultural change from a big, sprawling institution like BU to really assert that these are our values with respect to climate change and sustainability," Janetos said. "It's important to provide opportunities for people to make their wishes heard."
Janetos said the Task Force is hopeful that the trustees will agree with their final report, but that it is now up to the university to decide how these recommendations will be implemented.
"We've got recommendations for energy use, preparedness, for academic programs and curriculums, for a wide range of features for the university and the university is going to have to figure out how do we make those recommendations a reality," Janetos said.
Divest BU, a group of students who lobby the university to divest from the fossil fuel industry, wrote that they hope the release of the draft report encourages more students to engage with the Task Force.
Masha Vernik, a College of Arts and Sciences junior, wrote in a Facebook message that Divest BU appreciates "the seriousness and diligence with which the Task Force is approaching BU's impact on and vulnerability to climate change" wrote on behalf of the organization.
Vernik also wrote that Divest BU hopes to see "further student involvement in the process of developing a final plan through additional students on the Task Force and active student engagement at the open forums."
Other students said they were glad to learn that the university is taking steps to reduce its environmental impact.
Rachel Small, a Sargent College of Health and Rehabilitation Sciences senior, said she was satisfied with BU's efforts to mitigate its effect on climate change.
"There's always room for improvement, and I'm glad that steps are being taken to continue working on climate change," Small said.
Rebeckah Muratore, a Sargent freshman, said she feels it is important for BU to be a leader in reducing carbon emissions as a major research university.
"Big institutions like BU have sort of a responsibility to the environment to instill lifestyle habits that will cut down on climate problems and global warming," Muratore said.