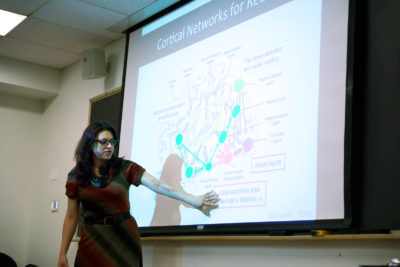 To Joanna Christodoulou, dyslexia isn't just found in the classroom.
Christodoulou, a professor at the Massachusetts General Hospital's Institute of Health Professions, visited Boston University's Sargent College of Health and Rehabilitation Sciences Friday to address the most common learning disability among K-12 kids.
The presentation focused on neurocognitive signatures of dyslexia, associations between reading disabilities and socioeconomic status, the impact reading intervention has on the brain and behavior, and the implications of these studies for educational and clinical practice.
Christodoulou shared her interest in learning more about why people struggle with reading and how she hoped her work would help different people with the different reading related issues that they struggle with.
"The research looked at how kids who are struggling readers and also homes from a lower socio-economic status differentially benefit from reading intervention that we held over the summer," she said. "That means that we found that kids who were worse readers or kids who were lower SES homes benefitted more from the intervention that we offered that was very intensive."
She explained that rather than finding that the summer intervention program had helped improve the reading ability of the participants, her team learned that among struggling readers those who were actually in the intervention held steady while kids who were not in the intervention showed a regression in reading ability.
Natalie Gilmore, a third-year doctoral fellow at Sargent and one of the main organizers of the speech, mentioned the reason she thought these talks were so useful.
"As part of our experience [at Sargent], we have this great opportunity where we get to invite different speakers either locally, regionally or even nationally to come and present to our department and share their research." Gilmore said. "Luckily, I was able to help organize Dr. Christodoulou's talk."
Even though Christodoulou's work was actually out of her area of study, Gilmore said she still saw an overlap with her work in many of the things she talked about in her speech. She said it made her realize how important it was to think about the overlap between different areas of study and how they could all help each other.
"We went out to lunch with her and she was a really exciting young professional, young female researcher, doing imaging work and doing behavioral work so that was really great to have her hear about the work that we're doing here, and mentor us and give us suggestions about our projects," she said.
Gilmore added, "And then getting to come here to her talk and hear her share her work, she's just very approachable and fantastic, so it was a great experience."
With Christodoulou's visit, Gilmore said she believes that students at Sargent now have a local resource that they could turn to.
"If we're interested in learning more about her reading and writing program or dyslexia, now we have somebody that we can contact now [that] we know she works at MGH," she said. "She actually works with someone who used to be in our lab, and it's really great to be able to keep up that connection."
Allison Fitch, a postdoctoral fellow at Sargent, agreed with Gilmore on the usefulness of the speaker series.
"It's really interesting, we get interdisciplinary researchers here, and it helps expose us to a whole bunch of different research that we would otherwise not get exposed to but is very similar and relevant to our own work," Fitch said.
Christodoulou concluded her presentation by discussing how everyone should aim to help in any way they could.
She said, "I encourage anyone who is interested in working with students, working in the classroom, working in the clinic to recognize how impactful their work would be and how many people are in need of their help."