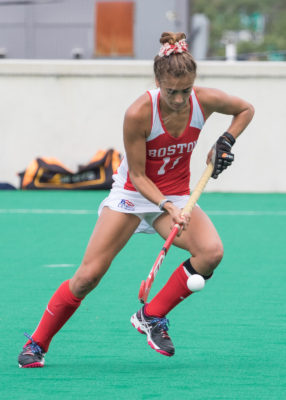 This weekend, the Boston University field hockey team will head to Hamilton, New York for a conference matchup against Colgate University before returning home to New Balance Field for a tilt with No. 2 Duke University.
The No. 22 Terriers (5-4, 1-0 Patriot League) will look to add another Patriot League win to their record against the Raiders (2-7, 0-2 Patriot League).
Starr could not overstate the importance of Patriot League play at this point in the season.
"It's huge, our Patriot League really is our ticket to the NCAA tournament," said BU head coach Sally Starr. "Every team in the Patriot League is a good quality team, this is a game on the road as well. So I think all of our attention is 100 percent on Colgate … Once we take care of that we'll look forward to the opportunity to play Duke."
Last weekend the Terriers earned a conference win against Lafayette at home with a 5-1 victory. The victory came in large part due to BU freshman Ailsa Connolly's hat trick. She has been a vital part of the Terrier offense this season, leading in scoring with six goals and 12 points.
Last Sunday, Princeton University came out strong against the Terriers getting a 1-0 win at New Balance Field. This was the first time this season for Boston that they could not get on the scoreboard.
Colgate is coming off of five straight losses. Statistically, the Terriers have scored more than twice as much as the Raiders this season. Sophomore forward Iona MacKillop leads in scoring for the Raiders with three goals and two assists.
Duke (7-1) has rattled off four straight wins and will play No. 9 Boston College on Friday before facing the Terriers on Sunday.
"I wouldn't say there isn't any extra pressure. I really see it as an opportunity," Starr said. "Duke is number two in the country right now … They've had some really high quality wins. So I just see it as opportunity for us to measure ourselves against some of the top competition in the country."
The Blue Devils have won the last 11 contests against Boston. They are 6-0 in nonconference games this season. Duke boasts an 18-5 against Patriot League opponents all time.
Duke's defense, in addition to their offense, is a vital component of their success this season. In five of their eight games, the Blue Devils defense have shut out their opponents which is ranked second nationally. They shut out the University of Louisville 5-0 and Old Dominion 3-0. The Blue Devils also beat Princeton 2-1.
The Blue Devils have scored 22 goals this season while the Terriers have scored 18.
Rose Tynan leads Duke with six goals and 14 points. Both Ashley Kristen and Ainsley Gill are second in goals with three.
Redshirt sophomore goalkeeper for the Blue Devils, Sammi Steele, has made 26 saves this season.
For the Terriers, junior Kathleen Keegan and freshman Millie Baker have split goal time for the Terriers this season, combining for 33 overall saves.
Starr said she is impressed with the play of her freshman goalkeeper.
"She just continues to get better and better as she is getting more comfortable with our style of play," Starr said. "I think she's gaining more confidence with every opportunity … coming in we knew she was going to be a very good keeper."
Matthew Martin contributed to the reporting on this article.