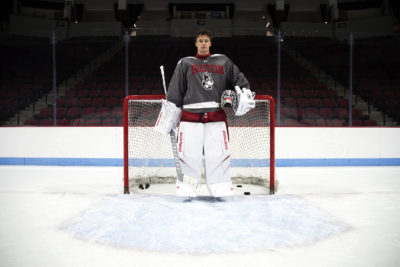 When sophomore Jake Oettinger steps between the pipes and makes save after save, he looks experienced beyond his age. After playing 35 games for the Boston University men's hockey team against top goaltenders such as Boston College's Joseph Woll, it's safe to say he has learned a lot.  
Within his first season, Oettinger gained a lot of attention from BU fans and members of the hockey world. This comes as no surprise because among his long list of accolades include a spot on the 2017 Hockey East All-Rookie Team and the No. 26 overall pick in the 2017 NHL Entry Draft. It's easy to see the numbers: the goal save percentage, the rankings and the shutouts, all of which are very high, but Oettinger said he knows playing hockey is more than just a numbers game.
It takes a mentality and a certain type of person to continue to bring their all even as the opposing team's fans boo them for letting in a goal that they will feel terrible about once they leave the spotlight of the rink. Oettinger is still young, but he's cultivated a mentality beyond his years that has served him well as he sits at the end of the ice, waiting for a puck to fly at him.
With or without a mask, pucks rushing near anyone's face would be cause for alarm, and last season during the opening round of the NCAA West Regional against North Dakota, 56 shots flew at the Oettinger as the game went into double overtime. In a matchup like that, Oettinger remained stable and calm in the net.
BU head coach David Quinn said the 18-year-old's maturity in goal set him apart from other goaltenders. It was what struck him the first time he saw Oettinger play in the Five Nations Tournament.
"He came halfway through the game and in the first three minutes, he had to make about five great saves after sitting on the bench for a game and a half," Quinn said. "Obviously his physical skills speak for themselves, but answered a lot of questions about the mental toughness that he has."
This mental toughness doesn't come easily and Oettinger has endured his fair share of tough moments, but he said knows that he is going to let up some goals.
"For me the biggest thing is just bouncing back and never letting a bad goal go in twice," Oettinger said.
It's an easy thing to say, but a difficult thing to learn, let alone do on a game-by-game basis. Oettinger said his mentality has evolved through getting older and just playing more.
Originally standing in front of the net as a defenseman, the Lakeville, Minnesota native made the transition to goalie after being occasionally called upon by his coach to play the position. It was a role he willingly accepted and even before that he said he recalled taking a keen interest in goaltenders when he watched professional games as a child.
Now, rather than sitting in the safety of the stands, Oettinger appears under the spotlight of the rink. Unlike other members of the team where their small errors can go relatively unnoticed by the inexperienced eye, a small error by the goaltender could have the lamp light up behind him.
Though, it's reassuring to Oettinger that even NHL goaltenders make mistakes.
"Everyday during the NHL season, I watch all the highlights," Oettinger said. "Vezina Trophy goalies, Stanley Cup Champion goalies let in bad goals so it kind of helps me sleep better at night seeing those guys let in bad goals too."
The sophomore's mentality has served him well in crucial games and hectic environments from the Under-18 World Junior Championship to the annual Beanpot tournament.
In those situations, he stated simply that he sticks to what he knows.
"No matter how many people are in the stands or how big a game it is, it's still the same game," Oettinger said. "All the stuff that make me successful in practice, make me successful in the game so I just try to stick to the stuff that I know and focus on doing what I need to do to help us win."
While Oettinger has cultivated a mindset that has withstood countless goals, a certain mentality is also necessary to stay out of the hype of the diehard fans and the statistics.
As a member of last year's freshman class that included three first round draft picks, the 6-foot-4 goaltender stayed grounded in the fact that there are ways he can always keep improving.
"I know there's always a ton more work to be done, and just being never really satisfied with yourself and your game and always be willing to come to the rink and put your work boots on," Oettinger said.
He also noted that the real measure of his work remains in wins and losses, and has a personal goal of winning 30 games this upcoming season. During his first season, Oettinger posted a 21-11-3 record.
This steadfast attitude had Quinn calling him "not just a goalie," but a "real student of the game" and someone who deeply understands the game.
"He doesn't overreact," Quinn said. "I think he's very calm. He knows where the net is and I know that may sound a little crazy, but I think too often goalies get panicky and they overreact where he doesn't. When you get a guy that size who understands the game of hockey, he can make the game look pretty easy."
This ability to make the game seem easy remains anything but that. Oettinger said he knows how a mentality can also affect a performance.
"The only [thing] that's stopping us from winning all the championships this year is ourselves and I think there are a lot of really good things ahead for this team," Oettinger said.
Over the past year, the goaltender said he has learned a lot more about college-level hockey and said he's excited to host the reigning NCAA champions Denver University on Oct. 27.
Early last season, the underclassmen-heavy team was swept at Denver with Oettinger between the pipes. The sophomore sees this contest as a measuring stick to where the team stands in comparison to last year.
While the goaltender can stay in his head about the past or the future, Oettinger is currently focused on the present namely the Terriers' first game.
"Right now I'm focused on Union," Oettinger said. "I'm getting myself ready and just doing all the little things right and trying to make sure come puck drop on the 30th that I'm ready to go."