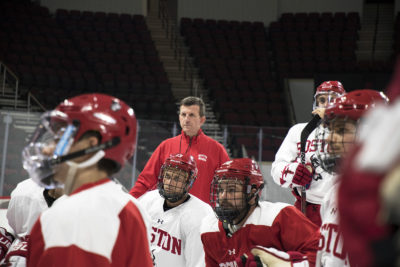 Just a year ago, Len Quesnelle was preparing for the college hockey season, ready to witness a plethora of Hockey East contests as a NHL amuetur scout throughout the winter.
This year, the situation is the same. The only difference? Quesnelle will be on the Boston University men's hockey bench coaching the Terriers rather than scouting out the next NHL prospect.
After spending four seasons as an amateur scout with the Detroit Red Wings, Quesnelle was announced as the newest member of the coaching staff earlier this month.
A grizzled veteran in the hockey ranks, Quesnelle is the replacement for former assistant coach Scott Young, a valuable member of the Terriers senior leadership for three seasons.
"We lost a great person and a great hockey guy in Scott Young," BU head coach David Quinn said. "But we are very fortunate to get a great person and a great hockey guy in Quesnelle. When you work at BU, you have a tendency to attract great people."
Young, a 16-season NHL veteran who captured two Stanley Cups over the course of his playing days, decided to head back to the professional league. He succeeds Mark Recchi as the director of player development for the Pittsburgh Penguins while Recchi was promoted to the role of assistant coach of the team under BU alumnus Mike Sullivan.
This opened up the gates for Quesnelle to join the second Hockey East coaching staff of his career.
"This was a special opportunity at the college hockey level," Quesnelle said. "It also gave me a chance to get back into a coaching role where you're working with players day-to-day, you're preparing for games on the weekends."
Quesnelle comes to BU with the expectations of capturing a collegiate championship for the first time in his coaching career.
"You've got teams that throughout Hockey East have a chance to make the national tournament," Quesnelle. "Here at BU it's all about competing for national championships."
Quesnelle's first Hockey East coaching opportunity came when he served as an assistant coach from 2004-2013 at the University of Massachusetts Amherst.
It was there that Quesnelle's career began to evolve. Prior to his arrival, UMass had failed to reach a NCAA Tournament despite being a Division I program since 1993. However, Quesnelle helped turn the Minutemen program around with his recruiting prowess.
Quesnelle helped the UMass program land goaltender Jonathan Quick, who later became a two-time Stanley Cup champion. In 2006-07, Quick's glove work was instrumental in the Minutemen earning their first NCAA Tournament berth while reaching the quarterfinals.
Prior to his lengthy tenure with UMass, Quesnelle was a staple player at Princeton University.
He served as a defenseman on the Tigers' squad from 1984-1988, which featured a NCAA Tournament appearance and All-Ivy League honors in his senior season. In that 1987-88 campaign, he garnered four goals and ten assists despite entering the season having not netted more than one goal or five assists in any of his previous years with the team.
"Lenny's got a lot of experience," Quinn said. "He's got a lot of respect in the hockey world. He is a bright guy and he is a tireless recruiter. We really lucked out in getting him."
After his playing career ended, Quesnelle did not stray from the Princeton campus. He remained with the program as an assistant coach, where he helped to facilitate one of the Tigers' most successful seasons ever in 1997-98.
That season, the Tigers won 18 games for just the second time in program history while capturing their first ECAC title and NCAA Tournament berth.
Three seasons later, Quesnelle took the reins of the Tigers and assumed the first head coaching job of his career. His first two seasons at the helm were ho-hum as the team mustered a .403 winning percentage in 2000-01 and a .387 winning rate the following season.
The squad's success plummeted in 2002-03 as Princeton went 3-26-2, placing Quesnelle on a hot seat that he was eventually removed from following a dismal five-win 2003-04 campaign.
Quesnelle's struggles at Princeton concluded with a silver lining, as his hockey legacy has been nurtured ever since joining UMass the following offseason.
It's a legacy he hopes to build on with his new position.
"The best coaches in the game continue to evolve and get better," Quesnelle said. "Once they feel as though they've stopped learning anything about the game and then I think that's when they get complacent as a coach … It's all about continuing to learn and get better every single day."