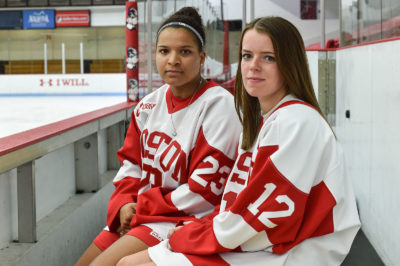 This past August, seniors Victoria Bach and Nina Rodgers spent their time anxiously waiting for their names to be called during the third annual National Women's Hockey League Draft.
The draft was rendered a success as Bach was the No. 7 overall pick by the New York Riveters and Rodgers was picked three rounds later by the Connecticut Whale. Being drafted to a professional hockey team will remain a milestone in any young hockey player's career, but the two forwards and frequent linemates know they have a job to do during the upcoming Boston University women's hockey season.
The pair will be pivotal in leading a group of two new transfers and six freshmen all while striving for another Hockey East tournament bid and possibly competing in the team's first Beanpot championship.
Although Rodgers' path to BU differed from Bach's, as she transferred to the university just last year, she and Bach both fondly reflected back on their time with the women's hockey program. No matter how different their careers have been, the players both look toward their futures with excitement and have one thing on their minds: hockey.
While Bach and Rodgers are actively working toward bachelor degrees, the natives of Milton, Ontario and Minnetonka, Minnesota, respectively, have pursued the sport they love for the better part of their lives.
"I want to become a pediatric nurse, but hockey's always been the number one," Rodgers said. "I've kind of had to dial back from hockey a bit, but it's always going to be there and I'm going to play as long as I can."
In comparison to the men's professional hockey league, the NHL, the NWHL is a small yet ever-growing league. BU has seen many of its players find success in the women's league, which was only established in 2015 — including two forwards who were on last season's squad, Mary Parker with the Boston Pride and Maddie Elia with the Buffalo Beauts.
Bach remains unsure of where she would like to continue her hockey career, but said she's confident that she wants to continue her passion after her time with the Terriers is done. The senior, who has represented her home country of Canada on the world stage, also has hopes of one day becoming an Olympian.
"I know the women's hockey game is growing everyday … I'm just excited to be able to be apart of that, and just kind of enjoy the process and keep working hard and hopefully obtain my goal," Bach said.
As the duo looks toward their futures, they also reminisced about the hockey careers they've built through all the challenges, the victories and the life lessons. They said they also remember the people and the program that helped them do it.
The team's program has been carefully guided by BU head coach Brian Durocher for 13 years, and one aspect about the program that is mentioned time and time again by young and old players alike is the closeness of the team.
"I think really just that all of us here are a family," Bach said. "Everyday I come to the rink with all of my best friends. I think that's made the experience here that much better."
Rodgers described the team as "just a bunch of goofballs having fun and playing the sport we love" and said they all helped her immensely during her transition to a new school.
Even though Rodgers has only sported the scarlet and white uniform for a single season, from a spectator's viewpoint the transfer appeared to blend into the BU lineup seamlessly after notching a career high 31 points last season.
At her previous school, the University of Minnesota, who the Terriers beat last season in overtime, Rodgers only posted nine goals and six assists over her first two years there.
Durocher said he believes that the skilled forward got lost in the talent that Minnesota has.
"You have 12 forwards, usually you play nine of them a lot and the fourth line is your energy line that gets out once or twice a period and [in] some tight games they may not get out as much," Durocher said. "[Rodgers] was sort of in that role and that's not Nina. She's a kid who can think, she can shoot, she can pass, she can handle a puck well."
Durocher noted that Rodgers had a bit of slow start to her inaugural season at BU, but once she loosened the pressure on herself, she easily fit into the Terriers' top two lines and impressive power play unit.
Rodgers mentioned that hockey as a sport helped her confidence grow on the ice and in the classroom. However, transferring to BU brought that confidence up.
"I mean hockey's a great sport to learn [confidence] about yourself," Rodgers said. "But once I came here and I really bought into myself, it was a real transformation mentally."
In comparison, Bach has continued to improve and excel within BU and the greater hockey world since she first stepped onto Commonwealth Avenue three years ago.
The forward has scored at least 20 goals each season and led Hockey East in scoring 22 goals last season.
"She keeps getting better," Durocher said. "The best thing that's happened for her is she continues to evolve as a thorough player."
Adding to her already diverse set of abilities, Bach was named assistant captain this season alongside senior goaltender Erin O'Neil and junior forward Sammy Davis, and it is something she said she takes great pride in.
Durocher, as a former BU captain himself, added that serving as a captain is a "great honor, but it's a challenge."
"This year will be another test because she's one of our captains for the team and being there for others as well as herself is going to be very important … But it will help her short term and it will help her long term," Durocher said.
Hockey can teach endless lessons that vary on and off the ice, but the pair said their college experiences would have been inconceivable without hockey.
"[My college experience] would've been boring, really boring," Rodgers said. "If I didn't have hockey, I don't want to say I'd be miserable, but I feel like I would've not learned as fast how to time manage and be as happy with the little things and enjoy every little aspect of life. I think hockey has helped me with that so if I didn't have that, it would be hard to do so."
With their pasts behind them and looming futures ahead that provide excitement, nerves and another step closer to their aspirations, Bach and Rodgers are focused on their final season of college hockey.
Each player has a certain game they're looking forward to whether it's against BU's local rival Boston College or the University of Wisconsin-Madison, but the two players are mostly looking forward to what this year's team can bring and what they can accomplish together during the 2017-18 season.
"[It's] senior year," Bach said. "Basically I just want to leave it all out there."