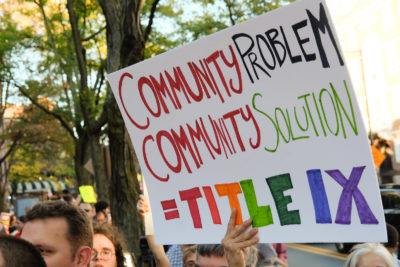 Approximately 1,000 protestors gathered for the Stand for All Students rally outside the Harvard Kennedy School's Institute of Politics Thursday night to protest the U.S. Secretary of Education Betsy DeVos, who was invited to talk at the John F. Kennedy Jr. Forum.
The purpose of the demonstration was to express unity in supporting all students, in addition to resisting the school privatization agenda of the DeVos administration, said Gillian Mason, co-interim director for Massachusetts Jobs with Justice, prior to the Stand for All Students rally.
"The message is that we here in Mass[achusetts] stand by our schools and we stand by our students," Mason said. "That means students of color, that means students who are trans students, that means survivors of campus sexual violence. We are all in this together. And because we stand for every student, we are ready to get up and fight for it."
The protest was coordinated by several educational organizations, including the Massachusetts Education Justice Alliance, Public Higher Education Network of Massachusetts, and the Massachusetts Teachers Association.
In a speech directed at DeVos, mayoral candidate Tito Jackson emphasized the quality of the Massachusetts public education system.
"Don't come here to the state of Massachusetts, number one in public education, and try and tell us what to do," Jackson said.
The demonstration continued with a diverse lineup of speakers, including activists, public school educators, students and parents. Each party offered a criticism of the DeVos administration.
Amelia Goldberg, a Harvard student and organizer with the anti-sexual violence organization, Our Harvard Can Do Better, spoke out against DeVos' new interim Title IX guidance during the rally.
"It's not justice when an unreasonably high standard of evidence deters survivors of sexual violence from coming forward," Goldberg said. "It's not justice that schools can allow perpetrators but not survivors to appeal cases. It's not justice when schools aren't held accountable for prompt investigations. And it's not justice when the burden of accommodations falls squarely on survivors."
Mike Robinson, co-chair of the Massachusetts Chapter of the Tourette Association of America, an organization dedicated to supporting the needs of those affected by Tourette Syndrome and Tic Disorders, said during the rally that personal experience has led him denounce charter schools, which DeVos supports.
"Two of our children [suffering from Tourette Syndrome] attended a publicly funded charter school for several years," Robinson. "It was one of the worst mistakes of our lives, causing tremendous suffering. I witnessed tactics of exclusion like you wouldn't believe, such as a teacher moving my son's desk ten feet away … from all the other kids, and taping a circle around his desk."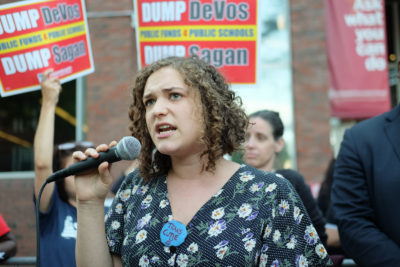 Lily Velona, a member of the Harvard Transgender Task Force, responded to DeVos' rescission of former President Barack Obama's guidance protecting transgender students in schools, especially barring transgender students from using the bathrooms and locker rooms of their choice.
"It puts trans people in dehumanizing and potentially violent situations multiple times a day every day," Velona said.
Several protesters at the rally expressed their intention to continue fighting back again DeVos and her proposed policies.
Bailey Polacek, 21, of Roxbury, said her personal experience of sexual assault has led her to protesting as a means of healing after the traumatic incident.
"Women won't be silent," Polacek said. "You have to be here. You have to be present. Democracy is a living organism. If you don't participate, it will die."
Norman Daoust, 67, of Cambridge, said she encourages people to support public education.
"Support your teachers," Daoust said. "Support … funding for public education, not decreasing funding for public education, which ends up with lots of student debt."
Tarshia Green-Williams, 34, of West Roxbury, said she champions a strategy of active protest to create favorable change.
"We should be going to these school board meetings, where they're talking about these school closings," Green-Williams said. "I've gone to these school closing meetings and there's 10 or 15 parents in a district where over 100 kids go to that certain school. So, if we're not going to go in the streets and make noise, I think they're [the DeVos administration] going to act like we don't care."