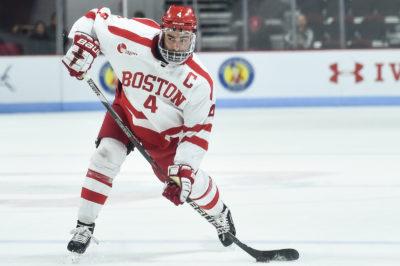 After winning its first game of the season last night, the No. 2 Boston University men's hockey team battled the University of Prince Edward Island in an exhibition game at Agganis Arena.
This was the second straight year the teams have met at Agganis for an exhibition game. Last year, the Terriers (1-0) beat Prince Edward Island by a score of 10-2. However, BU did not have the same success this season.
In last season's game sophomore forward Patrick Harper scored five goals as a freshman and added two assists. He would not be given the opportunity to match that performance as he did not dress for tonight's game.
Despite this being an exhibition game, BU head coach David Quinn said that this was still a hockey game.
"It's a hard game to play, and that's what we kept talking about," Quinn said. "It's a hockey game. It's not an exhibition game."
In the first period of play, the Terriers got on the board first thanks to a goal by sophomore forward Patrick Curry. Curry took a pass from freshman forward Jake Witkowski and graduate student forward Drew Melanson and shot the puck past Prince Edward Island goaltender Matt Mahalak less than seven minutes into the first period.
Last year, Curry had scored 11 points for BU thanks to three goals and eight assists.
The Panthers knotted up the game at one less than one minute later Prince Edward Island forward Marcus Power was able to send the puck past redshirt sophomore goaltender Max Prawdzik. Power was assisted by forwards Darcy Ashley and Brent Andrews.  
The Terriers took the lead again with four seconds left in the first stanza when freshman forward Brady Tkachuk scored a power-play goal, which was set up by fellow freshman forward Shane Bowers and sophomore defenseman Chad Krys.
Krys temporarily was taken out of the game due after getting shaken up on a play midway through the second period. He returned moments later to assist on a goal scored by senior defenseman and captain Brandon Hickey 14 minutes into the second period to give BU a two-goal lead. Junior forward Bobo Carpenter also gained a point on the play.
Prince Edward Island bounced back 17 seconds later due to a goal by Nathan Yetmam, set up Tanner McCabe.
Just over a minute later, the score was even at three thanks to a goal by Panther forward Sam Aulie. Aulie had help from Cody Patne and Filip Rydstrom.
The Terriers fired back shortly after and took back the lead off of a shot by Krys. Krys was assisted by Tkachuck and Hickey to give the Terriers a one goal advantage.
Three minutes into the third period, Aulie found the back of the net a second time and tied the game up at four goals per team. Five minutes later, Prince Edward Island obtained their first and only goal of the night when Chad Labelle shot the puck past Prawdzik.
Tkachuk scored his second goal of the night fourteen minutes into the third period. Once again Bowers got one of the assists on the goal. The other assist went to freshman forward Hank Crone.
However, even with five shots in the overtime period, the Terriers were unable to find the back on the net for the game-winning goal.
Despite outshooting Prince Edward Island 41 to 21, Quinn said that he would like his team to be more aggressive and take more shots.
"I actually think we're passing up shots," Quinn said. "I know that may sound crazy but the one thing we've talked about is I think we're getting pucks to areas where can be ready to shoot them."
BU will be back in action Oct. 8 when it takes on Quinnipiac University on the road for their first road tilt of the season.
"We got a day off tomorrow, move on, and get ready for Quinnipiac," Quinn said.