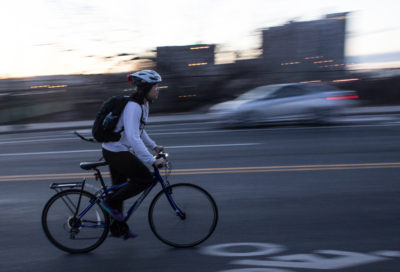 A new bicycle-sharing program from overseas is quickly starting to establish itself further in the Greater Boston area, increasing pressure on Boston-based Hubway.
Ofo, the Beijing-based bike-sharing company, launched Monday in Revere, making it the third city in the United States to embrace the company after Worcester, according to a press release from the Revere Mayor Brian Arrigo's office.
The service costs $1 an hour, and does not require customers to return bikes to designated stations, making ofo the first and largest station-free bike sharing company in the world, according to the release.
In order to operate an ofo bike, individuals must first download the company's phone application, and then they are free to rent and park the bike in any legal area, according to the release.
Joe Gravellese, aide to the mayor of Revere, wrote in an email ofo first approached the City to see if the company could officially operate there.
"After a series of meetings, we determined allowing them to offer the pilot program was in the public interest," Gravellese wrote.
Gravellese wrote ofo provides a wealth of opportunities for meeting residents' transportation needs, and this encouraged the city to agree to a pilot program.
"A bike share could create useful opportunities for Revere residents to connect with transit, errands, and leisure, and this model comes at no expense to the taxpayer," Gravellese wrote.
As ofo has become established in these two Massachusetts towns, Hubway has big plans for the future as well. Beginning in 2018, the company plans a major expansion to their services, including over 100 new stations, and over 1,000 new bikes, according to Hubway.
Becca Wolfson, the executive director of the Boston Cyclists Union, said she is not sure if ofo will provide the same benefits to residents as Hubway.
"Hubway has a low-income membership, companies' assistance for employee discounts [and] it's more accessible," Wolfson said. "We hear that dock less bike share companies don't have that same civic beauty."
Wolfson said she believes competition between the two companies may be beneficial for the City.
"Competition can be healthy — it can bring some effort to improve operations currently," Wolfson said. "I'd hope that these dock-less systems would be deployed in a way that are like Hubway."
In Boston, there has been an increase in bike riders, which makes it a good city for both companies to operate in, Wolfson said.
"Part of that [increase in riders] has been the improvement in infrastructure," Wolfson said. "In Cambridge, Somerville, Boston and even Brookline, we are adding protected bike lanes."
Carlos Rufin, a professor of international business at Suffolk University, wrote in an email that if ofo comes to Boston, they will be competing with Hubway, a bike-sharing service that is already prosperous in the city.
Rufin wrote he does not foresee Hubway suffering a major impact as a result of ofo's introduction in the state.
"I don't think that [Hubway] will be affected negatively because they serve a much bigger and dense area," Rufin wrote. "But small bike-sharing businesses in Worcester and Revere, if there are any, may be displaced by ofo."
Several Boston residents said if ofo was to be established in the city, it may provide competition to Hubway because of the company's station-free service.
Melissa Turek, 32, of Seaport, said while she does not use bike-sharing programs because of safety concerns, ofo appears to be convenient for riders.
"They are great for people who want to use them, but it is too dangerous for me to use," Turek said. "I like the idea of not having to return it to the same place."
Mike Wolner, 25, of Back Bay, said while he does not use bike-sharing services, he would use ofo instead of Hubway.
"Ofo sounds more convenient than Hubway," Wolner said. "I wouldn't prefer [Hubway] over ofo if I don't have to bring a bike back."
Harry Lee, 27, of the South End, said he would prefer to use ofo over Hubway because of its station-free operating system.
"I was going to get a membership for Hubway, but I don't live close to any of the stations so it was uncomfortable since I have to walk 10 minutes or so just to get a ride," Lee said. "So if I can park anywhere and pick up somewhere near it would be better."