The Boston University men's hockey team was unable to continue its success on Sunday as it tied the University of Prince Edward Island 5-5 in its exhibition game.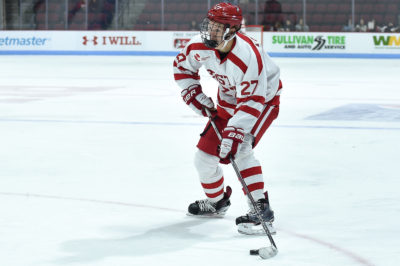 While sophomore forward Patrick Harper notched seven points in last season's matchup against the Panthers (0-0), freshman forward Brady Tkachuk emerged as a driving force for the Terriers (1-0) in this year's matchup after scoring two power-play goals and notching an assist.
The St. Louis native saw his first tally with less than a minute remaining in the first period. After a feed from sophomore defenseman Chad Kyrs to freshman forward Shane Bowers, Tkachuk found the back of the net as time in BU's five-on-three dwindled.
BU head coach David Quinn said he thought that overall Tkachuk's performance was solid.
"He played pretty well," Quinn said. "He did a good job. Brady's a really good player. Obviously tonight he got rewarded from an offensive standpoint, which was good and we're going to need him to be productive offensively."
In another night filled with penalties, predominately from the Prince Edward Island side, BU found itself with many chances to be productive on the power play yet was only able to convert successfully at the end of the second period.
With almost a minute remaining in the man-up advantage, Tkachuk collected the puck from senior defenseman and captain Brandon Hickey before getting it to Krys for a goal past the Panther's goaltender Matt Mahalak to give the Terriers a 4-3 lead.
Prince Edward Island went on to score twice more within a five minute span in the final frame of the game to capture its first lead. With eight seconds remaining in the power play, Tkachuk received a pass from Bowers to knot the game at 5-5.
The freshman finished off the night with three points, after tallying an assist to Bower's empty net goal against Union College in the season opener on Saturday.
Although no new players got on the board with the exception of Bowers' empty net goal, many found success against the Panthers.
Bowers registered two assists on two power-play goals while graduate transfer forward Drew Melanson, and freshman forwards Jake Witkowski and Hank Crone got one assist apiece.
The Terriers ended the night outshooting Prince Edward Island in every period and ended the night with 41 shots, four of those coming from Tkachuk. After putting up five shots and missing the power play opportunity, BU ended the game with a draw.
Quinn said that despite the combined 84 shots over this game and against Union (0-1), he thought his team is passing up quality shots at the net.
"Too often we're holding it and looking for a better pass or a better shot," Quinn said. "I think we have to have more of a shooting mentality believe it or not."
Despite BU scoring four power-play goals, Quinn remained unsatisfied with the quality of his team's performance during the power play once again.
The Terriers finished 4-for-10 on the power play, but the Panthers were able to get quality shots during their penalty kills, testing redshirt sophomore goaltender Max Prawdzik.
Quinn said that his team after beating Union in its first regular season game wasn't bringing its all against the Panthers, but remains hopeful for next weekend's matchup against Quinnipiac University.
"At the end of the day we got a tie and our power play was productive, it didn't look good, but it was productive and we get a day off tomorrow to get ready for Quinnipiac," Quinn said.