The Boston University men's hockey team started its season out with a 4-2 win against Union College on Saturday night, but a major factor in the Terriers' (1-0) opening contest of the year was their special teams.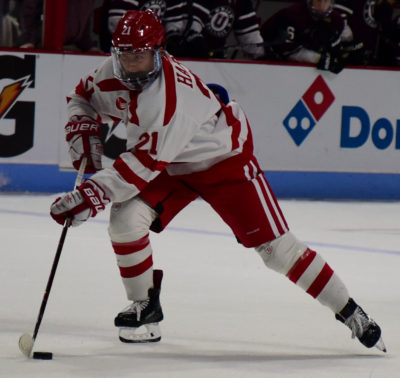 In a game full of penalties, the special teams were on display.
While the Terriers finished last season with a .871 penalty kill, it lost significant members of its penalty-kill unit such as former captain Doyle Somerby at the end of last year's season.
Although, BU successfully killed off three of the Dutchmen's (0-1) chances on their power-play and scored two power-play goals to earn its first win of the season.
However, BU head coach David Quinn remained unhappy with his team's penalty kill especially because their other two goals were empty-netters.
"I know I wasn't happy with our penalty killing," Quinn said. "I'm sure [Union head coach] Rick [Bennet] wasn't happy with his because you just don't have a chance to spend a lot of time doing it. … I think playing a game this early, your penalty kill isn't going to be where you want it to be…"
Union forward Brett Supinski got the puck past sophomore goaltender Jake Oettinger halfway through the first period at 11:24 on a power play.
Sophomore defenseman Dante Fabbro who blocked four shots thought the penalty kill was solid, but could use some work as the season progresses.
"I think when they had scored, there were a couple mishaps, but it's the first game of the year," Fabbro said. "Obviously it's the first time we got to try it … We just got to build off things and you really get to test out your abilities in games so I think we can definitely fix a few things on the penalty kill in practice and moving on to tomorrow as well, but I thought we were pretty solid throughout the whole game."
On the other side of the special teams, BU went 2-for-5 on its power play.
The Dutchmen's 1-0 lead was short-lived as sophomore forward Patrick Harper converted on BU's second power-play chance of the night after a nice feed from junior forward Jordan Greenway and senior forward Nikolas Olsson.
"I wish we were more opportunistic especially early I thought we had some chances up ahead," Quinn said. "I like the fact that we didn't let getting down one nothing affect us. I thought we kept playing and obviously we come back and get a power-play goal."
After a scoreless second period, Fabbro scored 12 minutes into the final frame to give the Terriers a 2-1 lead.
While BU finished with a .194 power-play conversion percent last season, Fabbro said the team is focusing on "quick puck movement."
"I know last year we struggled a lot because we held onto the puck too long and we weren't getting shots off," Fabbro said. "I think our mentality this year is shoot the puck and find those seams no matter what. Just get the rebound and keep attacking the net. I think so far so good, but at the same time we're going to have to adapt throughout the year and kind of go from there."
BU out shot Union 43-32 after putting up 19 shots against the Dutchmen's goaltender Jake Kupsky, who tested the Terriers offensively.
Overall, Quinn thought the new players did well integrating into the Terriers' special teams.
"I wanted to use more guys on the penalty kill," Quinn said. "The power-play we've got a lot of freshman on that one unit. I thought they had some great chances and when you have as many freshman in the lineup as we do, I think eight of them were in the lineup tonight so you got to count on them and to win 4-1, they had to have played them all.