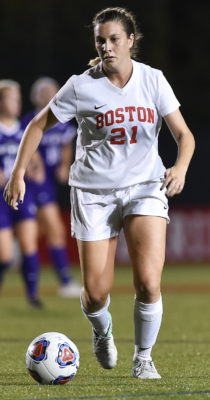 Boston University women's soccer team defeated Lafayette University Leopards on the road Sunday afternoon. With a dominating 3-0 victory, the Terriers (5-5-3, 3-0-1 Patriot League) have won their second consecutive league game and fourth in five games.
BU opened the game in routine fashion, attacking aggressively on offense. The team came out poised from all corners and edges of the field, crisply passing the ball looking for open shots to take an early lead.
Such effortless passing proved fruitful as senior midfielder Jesse Shreck launched a bullet into the upper left corner from 25 yards out to find the back of the net in the sixteenth minute.
Minutes later freshman midfielder Anna Heilferty, off a pass from Shreck, punched the game's second goal into the bottom right corner of the net to provide the Terriers with a 2-0 lead.
"Jesse's goal was great … it really was a beauty," BU head coach Nancy Feldman said. "She had an assist on the second goal which was a set piece coached by our great assistant Emma Clark … they ran it to perfection."
Looking to narrow the deficit, the Leopards (3-5-2, 1-2-1 Patriot League) attempted a counterattack but were stifled immediately. A stalwart Terrier defense denied any effort by Lafayette to near the goal.
"I thought we committed to defending," Feldman said. "They are really dangerous playing direct … [with] great attacking players … we were very disciplined and hardworking in defending high up the field."
The Terriers continued to play with aggression, despite their lead, and scored a late goal. The goal came in the 81st minute as sophomore defender Shannon Keefe showed off her offensive abilities, scoring her first goal of the season.
"The attack is starting to be more fluid and versatile," Feldman said. "It's little more creative, less predictable. In my vision, it's hard to defend when you do that, you're not stuck only playing one way but that you can solve pressure and open teams up and find where you're going to have success."  
Also notable was the upshot of the Terriers second half game. Adding 13 shots to its total, BU shut out Lafayette 24-0 in shots for the whole game.
"I felt [our effort] was complete," Feldman said. "It's about being mentally tuned in and focused, having desire and being ready to compete. I think that tipped the game our way."
The Terriers' recent spate of wins and close losses have pointed to an increasingly successful cause and effect relationship in their strategy.
This has been the case in recent games as the majority of BU's goals have come in the first 35 minutes or so. Ensuing is the robust defense that creates opportunities for more shots in the second half.
"We're focused on doing the things we need to do to be successful," Feldman said.
BU plays the United States Naval Academy on the road next Saturday in what the team hopes to be the third consecutive Patriot League win this season. The team will maintain its game strategy, but further look for areas to improve on and ways to grow as a whole.
"A really complete team effort," Feldman said. "I'm pretty pleased with the performance today. I thought our kids played a really strong, committed, focused 90 minutes."
Elis Griswold contributed to the reporting for this article.