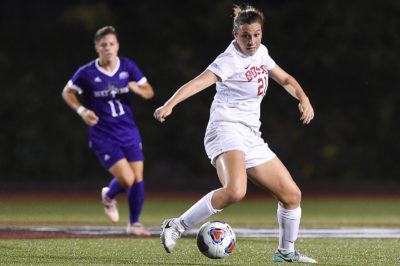 It has been smooth sailing for the Boston University women's soccer team.
Since a 3-0 loss to Boston College, the Terriers (5-5-3, 3-0-1 Patriot League) have yet to allow a single goal in five consecutive games. BU has captured victories in four of these five shutouts, the last two coming against Patriot League opponents.
This Saturday, the Terriers will ship down to Annapolis, Maryland to face off against the United States Naval Academy. The Midshipmen will have their hands full, as BU has simply dominated their competition over their two-game winning streak.
"The philosophy doesn't change at all," BU head coach Nancy Feldman said. "We know Navy is a very good team. They are very good in midfield. They are sound and stout defensively as well, but we're not going to do wholesale changes at this point. We are going to try to keep doing what we do."
The Terriers began this surge last Wednesday night in a 1-0 victory over the College of the Holy Cross. BU outshot the Crusaders by a whopping 27-2 margin while garnering 10 corner kicks to their the Crusaders' one. They forced goalkeeper Caroline Cashion to make 14 saves in a losing effort as BU's senior forward Christina Wakefield broke through with her fourth goal of the season just 12:55 into the contest for the go-ahead goal.
This momentum was carried on the road, as BU asserted their authority over Lafayette College from start to finish on Sunday afternoon. Senior midfielder Jesse Shreck, freshman midfielder Anna Heilferty and sophomore defender Shannon Keefe each landed their first goals of the season in a 3-0 shellacking.
The Terriers defense did not allow a single Lafayette shot while taking 24 of their own. The Leopards failed to record a single corner kick as well, with BU outnumbering them, 10-0, in the category.
Shreck was honored earlier this week with the Patriot League Midfielder of the Week award.
"[Shreck] has certainly lived up to our expectations," Feldman said. "She is a terrific playmaker. She can strike a ball well with [either] foot from distance which we saw in the game this past weekend. She is creative, nifty on the ball. Her 50-50-ball winning has improved over the last couple of years. She's a much more complete player."
BU's defense, ranking third in the Patriot League with 1.00 goals allowed per game average, will be put to the test against the Midshipmen (11-3, 4-0-0 Patriot League). Navy's offense has blown away opposing defenses as the squad has posted 2.4 goals per game, a figure which leads the Patriot League by a landslide.
The Midshipmen also rank first in the league in shots on goal per game (7.79). Midfielder Eleanor Pratt leads the conference with nine goals while forward Ash Fairow ranks second with seven.
Navy also has three of the top four assist-getters in the Patriot League, as defender Baseley McClaskey leads with seven while forward Clare MacAdam and midfielder Meghan Hegarty are tied with Shreck with four assists on the year.
The team has been in control of almost every single one of their tilts this season. Navy specializes in keeping the ball in the opponent's defensive zone, a catalyst in their 0.93 average of goals allowed per game, the second lowest mark in the Patriot League.
Like the Terriers, Navy has an ongoing shutout streak of their own. The Midshipmen have won their last three contests by a combined score of 8-0. In their last contest, a 2-0 victory of Lehigh University, both Pratt and Fairow potted goals while the team tripled the Mountain Hawks in shots on goal, 9-3.
"We have to commit to movement and playing away from pressure," Feldman said. "The higher the pressure, the quicker you have to be in solving it. When there is a lot of pressure, it is hard to be able to solve it."